Last week, we were fortunate to attend this year's GPhA Annual Meeting in Orlando, FL. As always, the event offered opportunities for networking and learning from the best of the generics industry. Over the course of this week, we're sharing a three-part blog series recapping the key learnings from the event. These recaps will approach those learnings from three perspectives – strategy, technology, and operations. Below, our technology and implementation consulting partner Brajinder Singh explores three key themes around technology from the 2017 GPhA Annual Meeting.
As my colleague Joe discussed in his recap of the strategic themes from the 2017 GPhA Annual Meeting, the association (and industry as a whole for that matter) is making strides to "own their story" through strategic efforts around patient access, innovation, and value. In pursuit of these strategies, generics manufacturers are exploring and investing in key technology capabilities. Below, I've highlighted 3 technology themes from the conference that will impact generics manufacturers in the near and long-term.
Advanced manufacturing capabilities are necessary to improve patient access, expand into new markets, and prevent shortages.
65 percent of all drug shortages are a result of manufacturing or quality issues. That's a fact that doesn't sit well with any generics manufacturer. Developing advanced manufacturing capabilities was a consistent focus throughout the conference, particularly with regards to continuous manufacturing.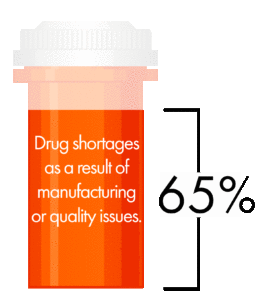 Continuous manufacturing, as opposed to batch manufacturing, would not only improve scalability and speed to market but also lower capital and operating costs. (According to one estimate, switching to continuous manufacturing could save up to 30% in operating expenses yearly.) By minimizing the potential for human error, there are also benefits to drug quality.
Realizing these benefits, however, requires significant investments in infrastructure and analytics capabilities.  As materials are constantly flowing through the process, a sophisticated system of equipment, sensors, and automation is necessary to maintain proper oversight and quality control.  Developing, implementing, and integrating those capabilities can't happen overnight. To start, generics manufacturers will need to carefully assess their current and future products to understand how continuous manufacturing would impact each.
The digital revolution continues to impact generics manufacturers.
Digital capabilities for generics companies have been slowly developing over the past few years and throughout the conference, it was clear that we'll be seeing further expansion in that regard. As generics market leaders adopt digital solutions and realize the benefits of concepts such as compliance and manufacturing automation, we'll see even bigger investments in technology. Those investments won't deliver value without careful planning and alignment to business processes. Standardization in particular will be critical to eliminating mistakes and increasing efficiencies.
Optimizing manufacturing and compliance processes/platforms isn't the only way that digital is impacting the generics industry. Improving patient engagement and access is paramount for generics manufacturers and achieving that requires digital solutions. As companies explore digital channels, transparency, security, and accuracy are key to creating trust with your stakeholders.
Cost pressures are affecting more than pricing policy, they're affecting the systems that administer pricing and contracting.
The drive to reduce drug prices and make medicines more affordable and accessible is impacting nearly all realms of pricing – including the underlying technology. As generics groups scour their margins for areas of improvement, reducing the complexity of contracting and pricing systems will reduce costs and improve efficiencies while also allowing for increased functionality and agility. With more payers and regulators looking to establish outcomes-based contracts, the ability to nimbly execute and operationalize contracts becomes a substantial competitive differentiator.
Many of the drivers identified at the GPhA Annual Meeting aren't necessarily unique to generics, they are pervasive throughout the life sciences industry. Addressing them successfully, however, requires particular consideration to the nuances of the generics industry.
Subscribe to Clarkston's Insights