Laboratory constraints manifest themselves through long processing times and stressed-out personnel. Oftentimes, organizations think the way to quickly remedy those constraints is to expand their physical space, explore digital tools and technologies, or invest in additional resources. However, this requires a significant investment, and in an inflationary environment, companies are straying away from those larger costs. As an alternative to adding lab space, hiring more personnel or purchasing more instruments, organizations should see what hidden capacity can be unlocked through taking a lean approach to lab operations. While lean requires a change in lab operations (and likely a cultural change), the return on investment can exceed a capital investment in facilities. It will also likely generate other benefits such as improved employee engagement and better regulatory compliance. 
Removing Waste from Lab Operations
Lean focuses on improving efficiency in the lab space by eliminating various types of waste, which can be classified as follows: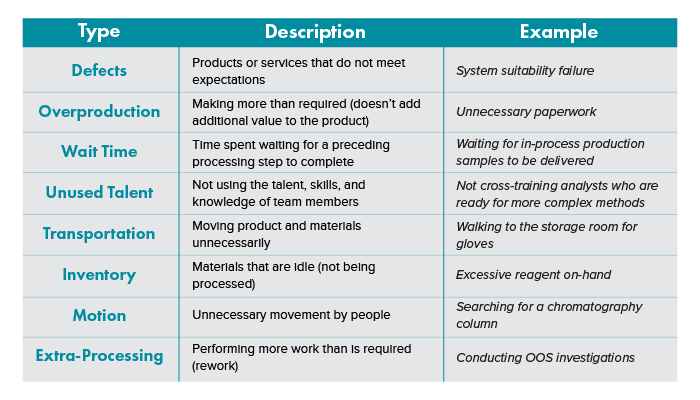 Eliminating waste requires effort. Out-of-specification (OOS) investigations cannot be discontinued (they are a regulatory obligation), so reduction needs to happen through fewer OOSs – something that probably would already have been done if the means were obvious. Other reduction efforts will be more straightforward, such as storing PPE near the point of use to avoid delays in retrieving them when they are needed.  
Getting Started with Going Lean 
The real power of lean is unlocked as it becomes engrained in the culture. As such, the first step in this transformation should include your people. Involve team members in discussions about taking a lean approach to operations in order to tap into unused talent, generate new ideas, and create a culture of continuous improvement. Use these discussions as a starting point to conduct an analysis of the benefit and effort of each idea – start off small and obtain a few wins before moving into the complex issues. 
Involving team members will also ensure they have ownership in the improvements and that these discussions are ongoing. Be sure to celebrate the wins – both for teams who solve issues and those who identify opportunities for improvement.  
If your organization is looking to move toward more lean lab operations, Clarkston can help. 
Subscribe to Clarkston's Insights