Industry Challenges
Over the past decade, the Pharmaceutical industry has experienced a myriad of market forces leading to a continual decline in shareholder value. In a financial analysis of leading Pharmaceutical companies conducted by Clarkston Consulting, data reveals a continual decline in price-to-earnings (P/E) ratio for those companies over the last 10 years. Since 2000, the ratio, a forward looking indicator of value reflecting investor demand for a company's shares, has steadily declined by 60%. Aligning your Supply Chain to the Changing Drug Marketplace Change in P/E Ratio since 2000: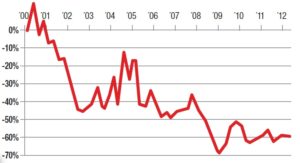 This decrease is being driven by a variety of game-changing forces.
Shrinking drug pipelines and R&D spend; Pharmaceutical spending on R&D has been on a steady decline. Winning regulatory approval for a drug takes, on average, 15 years and $1 billion, so drug companies are being more cautious as to where to place their bets.
Shifting of growth overseas; There has been significant expansion into new and emerging markets, as well as an increase in outsourcing core business functions, such as manufacturing, R&D, and clinical trials, overseas to coun­tries such as China and India.
Competitive pressure from generics; Since the "patent cliff" began to hit the Pharmaceutical industry, generics are claiming more market share and driving brand name drug prices up. According to Thomson Reuters, for the 15 bestsell­ing drugs, prices rose faster in 2010 than in each of the last 5 years. Two-thirds of the drugs saw double-digit price hikes.
Evolving regulatory environment; The Prescription Drug User Fee Act, the implementation of new biosimilars guide­lines, and the changing landscape of new drug development are also keeping companies on their toes.
For more, please download our report.