In this piece, we explore our 2023 World Economic Forum takeaways — the top global risks and what these risks mean for leaders in the consumer products, retail, and life sciences industries. Also, learn how you can leverage Clarkston's "Bring the Future to the Present" (BF2P) methodology to strategically plan for the future and mitigate these risks.
During the annual meeting in Davos, the World Economic Forum identified top risks that the world is likely to face in the next two years. These global risks may translate into financial or operational threats that should be considered by leaders across the retail, consumer products, and life sciences spaces.    
Employing strategic foresight can help key decision-makers learn from an uncertain future. Planning for the future can be challenging when the risks are not certain. In these situations, Clarkston's BF2P methodology can help lay out potential scenarios that will allow you to envision what the future might hold. This framework allows leaders to identify a variety of plausible futures and the capabilities that are required to be successful in any of these scenarios.  
2023 World Economic Forum Takeaways: Key Global Risks
While planning for the next two years, strategic leaders across industries should consider the following key global risks: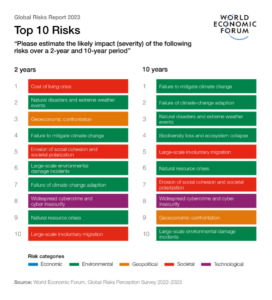 1. Cost of Living Crisis (Inflation) 
In 2022, annual inflation in the United States was at a 40-year high. Commensurably, the all-items consumer index, which measures the price of various, selected goods and services, rose 8.3% within the last year. The rise of inflation has led many to speculate that a recession is still looming in the near future. Factoring in the risk of inflation, its effects on cost of living will be extremely important while evaluating business decisions. For instance, to offset increases from the effects of inflation and to retain talent, businesses may need to increase employee pay. Inflation can also cause businesses to experience increased costs of manufacturing inputs, decreased consumer demand, and decreased profit margins.   
2. Natural Disasters and Extreme Weather Events 
Recent years have seen increases in natural disaster frequency and severity. In 2022, the U.S. National Centers for Environmental Information recorded 18 events with losses over $1 billion each, costing an estimated $165 billion. Comparatively, extreme weather events totaling $1 billion or more in damages throughout the 2010s were $70 billion less costly annually. For businesses, these disasters may directly damage essential assets or facilities, leave employees unable to work, interrupt site communication, and stress up and downstream supply chains. 
3. Geoeconomic Confrontation 
The war in Ukraine has increased energy and raw materials costs and disrupted global supply chains – in addition to the humanitarian impact. Looking forward, rising tensions may pose a risk of geoeconomic confrontation, which in a globalized economy, impacts resource availability and supply chains worldwide. As a secondary effect, geoeconomic confrontation may put further pressure on rising inflation, climate crisis, and ultimately consumers, shoppers, and patients worldwide.
How Do These Risks Impact Your Business? 
Along with these macro risks, every organization faces its own set of unique risks. These range from potential industry-related issues to customer and vendor relationship management to navigating organizational dynamics. Below, we outline impacts and considerations for the retail, CPG, and life sciences industries that strategic leaders should keep at top of mind for the coming year: 
Impacts & Considerations for the Retail Industry: Having the right products in the right place at the right time and at the right price will be even more important. The omnichannel shopping experience further exacerbates this importance. Shoppers have the expectation to get products quickly with next-day delivery while also having the flexibility to complete purchases and returns in whatever way is most efficient for them. A seamless omnichannel shopping experience can help add to shoppers' overall value perception when making purchasing decisions. Ensuring retailers are utilizing data and analytics within assortment planning processes will be key to satisfying shopper needs during times of global disruptions. The use of data as a focal point in decision-making can help lead to better efficiencies and improved insights to ensure that product offerings are satisfying customer needs from a price and value perspective.  
Impacts & Considerations for the Consumer Products Industry: Consumer products companies will also see similar challenges to their retail counterparts, and how you highlight the value of your products to shoppers and consumers will remain a top priority (especially for younger generations). A strong TPM system and process can help CPG companies better track the effectiveness of promotions and partnerships with retailers. Analyzing key trade promotion investments to make better promotional and pricing decisions can be a key differentiator. Natural disasters and extreme weather being on the rise can lend itself to volatile demand for products leading up to and after these events, and supply chain agility can help CPG companies better respond to consumer needs in the face of a disaster. In prior years, supply chain efficiency has been the main focus for CPG companies, but the pandemic and ongoing environmental challenges have caused major disruptions. Pivoting to an agility-first focus can help companies stay in stock and respond to demand changes more quickly to keep consumers satisfied. Developing robust environmental social governance (ESG) frameworks and goals to adapt to an evolving geoeconomic climate will also be crucial and will help align your company with customer sentiment in 2023. 
Impacts & Considerations for Life Sciences Industry: Recent legislation, like the Inflation Reduction Act in the U.S., will continue to directly affect life sciences and pharmaceutical companies' bottom line, since these measures directly affect pharmaceutical pricing leading to lower profit margins. The geoeconomic climate can also cause further strain on businesses within these industries. For global organizations, it will be important to be proactive about risk management and audits across global regions in order to get ahead of any geoeconomic challenges. Understanding what impacts could happen due to potential conflicts around the globe can help to set up a risk management plan to keep operations running smoothly.  
An overarching challenge between all industries will be the focus on supply chain resilience. Between disruptions from natural disasters to the threat of ongoing geoeconomic confrontation, supply chains will continue to be impacted by external forces. For business leaders who are unsure of what this means for their supply chain organizations, Clarkston's supply chain evaluation can be a good starting point to formulate a high-level perspective on your supply chain and to better plan for the future. By keeping future possibilities front of mind during this assessment, it's easier to understand what investments should be made to mitigate risk and stay ahead of the potential challenges ahead as outlined by the 2023 World Economic Forum.   
2023 World Economic Forum Takeaways: What Can You Do About It? 
Today's business leaders need to proactively navigate risks and challenges. By using Clarkston's "Bring the Future to the Present" methodology, decision-makers can work with their executive leaders to understand the impacts of these global risks across their business, envision what the future may hold for their organization, and determine the capabilities needed to be successful. For help or more information about a future-based strategy, contact us today.  
Subscribe to Clarkston's Insights
Contributions from Sydney Daniels