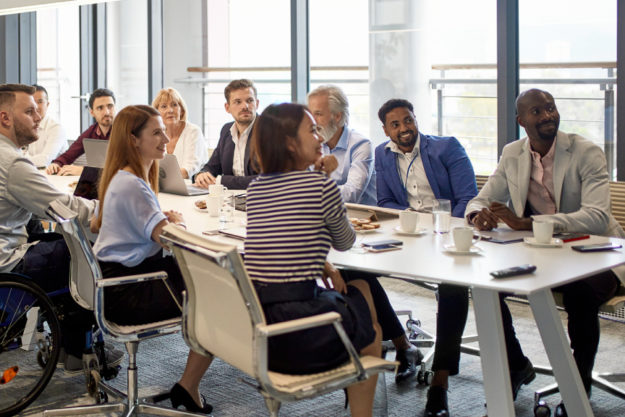 Unlock Inclusive, Equitable Organizational Design
Creating a diverse and inclusive workplace is no longer a nice to have, but is essential to business success. Companies with inclusive cultures are more likely to have better business outcomes and exceed financial targets. The time is now to focus on your talent and make data-backed decisions to incorporate diversity, equity, and inclusion into all areas of your business.
Solutions
An intentional focus on diversity, equity, and inclusion doesn't only make business sense, it's the right thing to do. Prioritize impact by focusing on awareness, intentional action, and accountability.
People Analytics
Finding the right answers as it pertains to diversity, equity, and inclusion starts with asking the right questions. The Diversity & Inclusion Insights to Action Platform unlocks organizational insights by leveraging people analytics. The rapid-deploy platform quickly gives you an intimate view of your greatest asset, your people, and unlock inclusive, equitable organizational design.
Training & Talent Development
Through our innovative, action-based diversity training focus less on "check the box" compliance training and more on leveraging information, discussion, engagement, and action to drive change. Our unconscious bias and inclusive language seminars and workshops are catalysts for increasing awareness, engagement, and understanding.
Strategic Advisory
Sustainable DE+I programs require change structural change across your organization. Whether it is policies, programs, or practices, we take a data-driven, people-focused approach to drive impact. Leveraging experience in organizational change management and organizational psychology to develop custom strategies and initiatives to help achieve your business' D+I goals, and support you along the way.
What Our Clients Say
Senior Director
Consumer Products Company
"Clarkston was great to partner with. They were inclusive on every level, including the resource selection process. They were transparent about the expertise of each person, and  happy to provide extra coaching when needed to the team regularly."
Diversity and Inclusion Insights
Contact Us about our Diversity and Inclusion Consulting services
Contact Us about our Diversity and Inclusion Consulting services