If you are starting to think about or are on your SAP S/4HANA journey, it's important to understand how SAP Embedded Analytics can help you maximize your investment.  In this blog, we will focus on the latest options available for Operational Reporting within SAP S/4HANA and how they differ from the existing options in SAP ECC on Non-HANA databases or Suite on HANA (SoH).
In the past, SAP ECC had options like Standard Reports, LIS based reports, Report Builder, SAP Query (SQVI) and custom ABAP Reports.  As we moved to Suite on HANA, the HANA Live provided much more flexible options to build operational reports, which leveraged the power of HANA.
As you start evaluating SAP S/4HANA, we would like to provide insight around Operational Reporting in SAP S/4HANA.
What is Operational Reporting?
Operational reporting is all about providing the necessary information for the business users that will enable them to perform their day to day operations. Mostly, the operational reporting will require real-time information, which means access to a large number of transactional tables and data set. For example, a list of open orders, Daily Sales Outstanding (DSO), Inventory levels, Material Usage Analysis etc. For more information on real-time/operational reporting check our previous blog.
So what's the solution for operational analytics in SAP S/4HANA? Embedded analytics.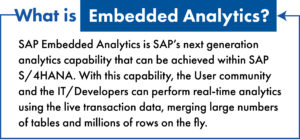 Why are we talking about Embedded Analytics now?  With the "Simplify IT" being a core theme for SAP S/4HANA, the number of tables in SAP S/4HANA is significantly reduced and the in-memory computing power of SAP HANA enables us to perform more complex analytical queries on real-time data.   We were not able to achieve this earlier, from the traditional databases.  The availability of Core Data Services (CDS) views that can be shared across multiple toolsets within SAP S/4HANA is also enabling the feasibility of achieving analytics within the transactional system.
Embedded Analytics:  Is that a report or a dashboard or an application?
All of the Above.   Embedded Analytics is a set of analytics features that are well integrated with SAP S/4HANA and comes up with a set of tools for different user groups (Business users, Power Users and IT Developers).  = Some of those toolsets include:
SAP Smart Business Cockpits (SBC)
SAP Smart Business Cockpits (SBC) are role-based applications that are built using SAP Fiori design principles and which focus on the user experience. For example, you could have a dashboard with a set of KPIs, analyze the ones that need attention, and take action where the insight to action activity is in the same dashboard for a user.
Query Browser
Query Browser is a Fiori App that allows you search and execute the specific analytical queries that the user is authorized to execute.
Query Designer
The Query Designer, not to be confused with BEx Query Designer, is a Fiori App that allows you to create and manage analytics queries. These analytics queries can be built on top of the Core Data Services standard and custom views.
Analytical Fiori Apps
Analytics Fiori Apps can be used for analytical purposes which provide actionable insights.
Benefits of Embedded Analytics:
There are significant benefits to embedded analytics including:
Ability to analyze business KPIs in real time and take immediate action;
Remove need for data replication into another database or an Enterprise Data Warehouse (EDW);
Ability to transact, monitor and analyze from the same screen or application using Contextualized Analytics (Fiori App or Fiori launchpad);
Unified look & feel, providing the best User Experience;
Full ABAP integration, ensuring seamless lifecycle management, authorizations, etc.;
Role based authorization, simplifying the security implementation;
No additional license requirements because it is included in the SAP S/4HANA Enterprise Management License;
Integrates with other SAP BI tools, including Business Objects Cloud; and
Multi-function use for the underlying CDS views; for example, the same CDS views can be used in ABAP workbench or in the BW extractors (data sources) or directly in Business Intelligence (BI) tools.
How is Embedded Analytics different from HANA Live?
HANA Live is the "earlier" version of embedded analytics, which is available in the Suite of HANA (SoH). These are based on Virtual Data Model (VDM) using Graphical Calculation Views.
The Embedded Analytics is the SAP S/4HANA version of VDMs, which are (re)built using CDS views. Similar to HANA Live views, the query views are accessible via the SAP BI tools and can also be extended/copied to create your own custom CDS views.
Future of Embedded Analytics
With SAP S/4HANA, SAP's strategy is to focus on embedded analytics rather than HANA Live and they are committed to adding more content into Embedded Analytics.  So, if you are moving to SAP S/4HANA, it does make sense to evaluate and leverage Embedded Analytics, for your operational reporting.
Now that we discussed the capabilities of Embedded Analytics in SAP S/4HANA, the next question would certainly be around your investments in EDW/SAP BW, and SAP Business Objects. With SAP S/4 HANA and the in-memory computing platform, the line between a transactional system and a reporting/analytical system is blurring out.   We will elaborate further on SAP S/4HANA and the impact to your BI strategy in this series' next post.
If you're interested in discussing your Embedded Analytics needs with our of our expert SAP consultants, contact us below.
Let's talk Embedded Analytics.
If you found this information interesting, subscribe to our blog to receive the latest SAP insights:
Subscribe to Clarkston's Insights
Sivakumar KA, a SAP HANA program manager for Clarkston Consulting, was a key contributor to this research.
Interested in learning more?
Free E-book: A Predictive Analytics Conversation
Business Partner Conversion in SAP S/4HANA®
Predictive Analytics and SAP S/4HANA® – Key Messages from FKOM
3 Ways to Convince Your CFO to Update to S/4HANA®
SAP S/4HANA®: Wait or Full Steam Ahead?