On September 27, 2007 the Food & Drug Administration Amendments Act (FDAAA) required the FDA to implement regulations establishing a Unique Device Identification (UDI) System. These regulations are expected to go in to effect around May 2013. As a result of this new requirement, several existing regulations will be changed and at least one new regulation introduced. The FDA has released the proposed final ruling with the comment period ending in November 2012. Have you read the proposed ruling yet? Do you know what is going to be required of your organization? The following tips will help you understand what steps you need to take, when and why.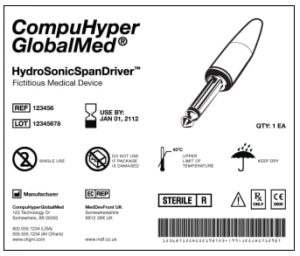 Example of what a unique device identifier (UDI) would look like on a medical device label. The label contains information about the product name, its expiration date, reference and lot numbers, manufacturer information, bar code, details about the item, and an illustration of the item. Source: FDA
Number 10: What's the Plan?
One of the biggest struggles for the Medical Device industry is setting the parameters around how to implement UDI.
Who will be responsible?
What parts of the organization need to be involved?
What product or products are affected?
How will that product be identified and contained?
What about training and logistics?
While it's tempting to get in the weeds with UDI, the plan needs to start at the strategic level. Many UDI projects have failed or are still trying to get started because there was no centralized strategy driving the initiative. When tasks are not identified or planned, resources not provided and milestones not mapped out, it can be difficult to take those first steps. Address these things from the start, and the implementation will go much smoother.
Within the plan, make sure to incorporate the technology side as well. Specifically, the engineering elements needed at the packaging line. It is critical to incorporate the accredited global standards and data to facilitate collaboration and information exchange with trading partners and the FDA, especially for incorporation into the UDI public database. For global medical device companies, it may be smarter to plan for a global approach as a first step to your implementation, followed by local or regional implementation plans as well.
For more, please download our report.