The role of the store in the world of retail is constantly changing. eCommerce pureplay retailers now have options to consider that may not have been as bold before. Traditional retailers grew up with the store floor being the primary source of business before starting to shift focus to eCommerce and online sales. Recently though, the focus is back on brick and mortar as brands look to create new experiences for their customers and raise brand awareness by opening stores in new locations. Now we are seeing the initial push from the new guard of digital-native retailers into brick and mortar locations. These eCommerce pureplay retailers are pushing into physical stores to the tune of 850 stores by 2023. There is likely to be a great real estate opportunity when the country emerges from the current COVID-19 reality, as some retailers will be forced to shutter doors for good as a result of the local and state stay-in-place orders. With the potential of prime-location, reasonably priced real estate, digital native brands will be tempted with the option of whether to finally open their first store. Once made, the planning process for this decision is not a simple one, so we've laid out four key areas that need to be aligned on prior to opening that first door.
Pureplay Retailers: Aligning on Store Purpose & Identity
It may seem simplistic, but the initial step in planning for that first store is understanding why your customer would come to the store to begin with. An easy answer is to allow your customers to buy your products in person, but that said there are plenty of brands that are looking to create a new experience with their stores or use them as a marketing tool rather than simply another distribution channel. This importance focuses on creating the best-fit omnichannel experience for each brand, where the role of the store can be different from retailer to retailer. The purpose is not always to only drive sales volume; for some it's an opportunity for customers to experience their brand in the moment.  Some of the key areas of purpose for digitally-native brands include a focus on brand awareness, engagement, trial, and cross-channel conversion: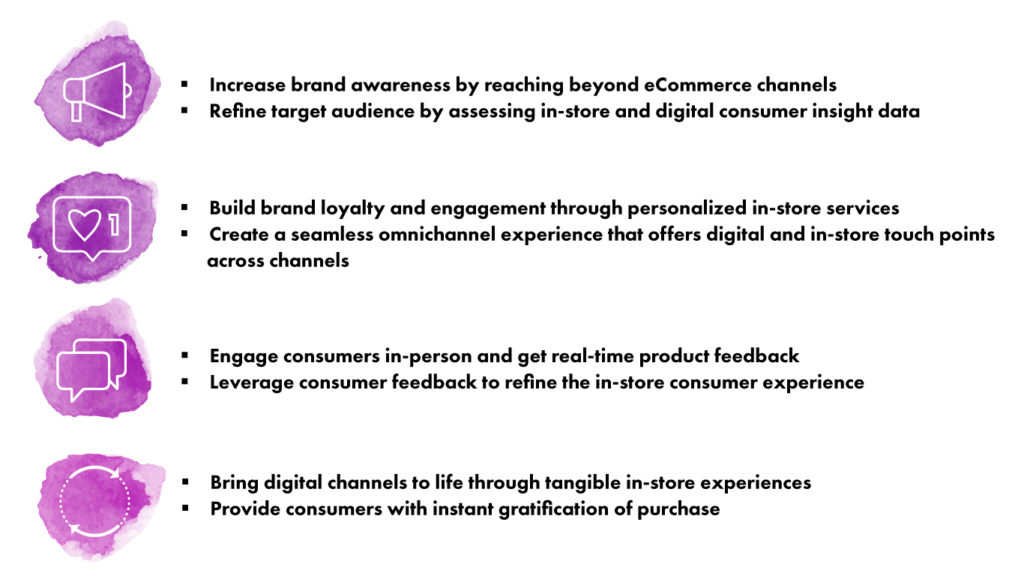 Casper, the online-born mattress retailer, understood that their consumer wanted to experience their product beyond what they could see online. To satisfy this, Casper opened 'The Dreamery', where customers can book a 45-minute nap on a Casper mattress to experience the product before committing to purchase. Casper has maintained their commitment to opening physical retail locations, with 60 stores opened as of September 2019 and a goal of getting to 200 over time. In contrast, Glossier, an Instagram-born makeup brand, wanted stores to mimic their online experience. Glossier wanted their consumer to feel like they were in the brands' Instagram feed, the stores feature life size versions of the products, bold furniture, and lots of millennial pink. Both approaches can be very successful but at the root of both is understanding what your customers seek out of interacting with your company in person.
Selecting the Best KPIs
To fully understand your store's success, you must look beyond revenue and take consumer intention and store identity into consideration. Is in-store revenue important? Of course. But it may not be the most important KPI given your store's unique purpose.  Your key KPIs should capture how your store's purpose contributes to your brand's success overall and aligns with your brand identity. In the instance of experiential store setups, brands should be focusing on traffic and interactions, follow-up transaction conversion, or how their web traffic is affected around their store to see how many 'impressions' the store makes.
Others, however, may want to assess how many Instagram followers they gain in the region of their store, or how many returning vs new customers come to their stores. Revenue is important, and it may be the most important metric if the store is simply a new distribution channel – but you must look beyond it to understand how your store contributes to your entire brands success, and the metrics must match the purpose of the space.
Leveraging Innovative Store Technology
Most modern e-tailers or eCommerce pureplay retailers have the benefit of not being reliant on outdated legacy inventory management systems, POS systems, or commerce platforms. With the opportunity to implement new technologies that seamlessly work together with their online platforms, e-tailers can have extremely powerful in-store technology. Because of this opportunity, brands should not look for technology that simply gets the job done, they should instead consider how technology can elevate their customer experience, store efficiency, and the future of their brick and mortar strategy. In-store technology should work seamlessly with online technology. Stores should know a customers' online purchase history and preferences in order to provide a personalized shopping experience. In addition to enhancing the customer experience, in-store technology can help your store run more efficiently. If you are drawing customers to a physical location, you need to be able to provide the product they want. So, predicting and maintaining inventory is essential and can be driven effectively by the right analytics tools. Beyond leveraging your robust online platforms, maintain your digitally focused brand image in store by offering the latest in digital payments, mobile check-out, and social media integrations to bridge the online and offline experience. Finally, with fewer stores to manage, brands typically can be more agile in their technology implementations – testing out new experiences in quick pilots before committing to them long-term.
Supply Chain
The e-commerce pureplay retailers are likely masters of a supply chain that focuses on direct-to-consumer as its only channel. This creates potential problems when moving to brick and mortar because it layers in the new functions of store fulfillment and replenishment. If your brand is developing an 'experience store', in-store inventory demands may not be as critical of a consideration. But you must account for the halo effect, as seen with Fabletics stores where their revenue increased 2.5 times within a 30 mile radius of their stores. Distribution centers need to be ready for the increase in shipments around the store, as well as to the stores themselves. Retailers who choose not to pursue an experience model will need to be able to accurately predict inventory for in-store product. If you are not able to sustain enough inventory in store, the customer benefit of interacting with the brand in-person will be lost and more importantly a poor customer experience will be had. These are tough failures to overcome, so ensure that all aspects of the store strategy are considered prior to welcoming in your first customers to your new store.
E-Commerce pureplay retailers are considering store locations for a variety of reasons, but especially to create new experiences for their customers and raise brand awareness.  Wise decisions around prioritizing alignment of store identity, establishing success KPIs, investing in innovative in-store technology, and sophisticated supply chain management are critical to a successful launch into brick and mortar.
To learn more our retail services, visit our Retail Consulting page.
Subscribe to Clarkston's Insights
Contributions by Lorraine Mackiewicz and Sanji Johari.