Retail is in a strange place right now. Some are at an advantage to consider multi channel retail options right now. In the middle of the resurgence of the store in the retail landscape the country has been hit with an unforeseen pandemic that closed most stores and is risking the future of some retailers. Direct-to-consumer (DTC) brands, on the other hand, aren't being impacted in that same way, and may find themselves in a position of strength when the country emerges from the COVID-19 pandemic. There is a strong likelihood that there will be a surplus of retail real estate available at a good price, tempting more DTC brands to move into physical retail for the first time. However, before jumping into a new format, it's important to evaluate the options and determine which model fits brand needs best.
Multi Channel Retail Options
Retail Partnerships  
For brands that are looking for distribution expansion and a minimal brick-and-mortar presence, partnering with an established retailer is the simplest of options. It prevents the DTC brand from investing in costly real estate but can still offer up some level of brand image control depending on the partnership. It also offers up product diversification for the legacy brick-and-mortar retailer. These partnerships continue to be popular with larger format stores such as Target, Sephora, Ulta, and Crate & Barrel, all of which have established partnerships with various DTC brands over the years.
Quip, the subscription electronic toothbrush brand, established a partnership with Target and subsequently raised an additional $40 million in funding. This partnership has allowed Quip to receive special endcaps in Target stores which create a unique experience for their customers to interact with the product in person. It is a great example of a brand that doesn't require its own store, but clearly benefitted from shelf space in a leading retailer like Target.
Sephora and Ulta are two retailers that saw DTC brands disrupting their space and rather than doubling down on their current strategies, adapted to the change by seeking partnerships with these disrupting brands. The "exclusive partnership" label is a boon for them, while the upcoming brands gain a physical space where their customers can come and try their products in person.
Tuft & Needle, the DTC mattress brand, knew that they needed to grow their retail footprint as early as 2017, but recognized that stores are a hefty investment, so they started by getting their products in stores such as Crate & Barrel to increase distribution while they raised money to open their own stores.
When looking for a partnership, it's important that DTC brands consider their overall brand image and ensure they are looking for a partnership that is consistent with that image and where their typical customer is likely to shop. Adopting a "test and learn" approach by partnering with established retailers can benefit brands by increasing exposure and gathering consumer insights before committing to a store investment. With these considerations, this option is a great first step into physical retail.
New School Department Stores  
While department stores are certainly not a new concept, a new wave of them has emerged in recent years. These new types of department stores, such as Neighborhood Goods, Showfields, and re:store, showcase DTC brands in a communal-like space. By renting only part of a space, often in trendy neighborhoods, brands are getting the chance to shine a spotlight on their products for a fraction of the cost of a dedicated brick-and-mortar shop. Like opening a pop-up shop, this concept allows DTC brands to test and learn how to operate a physical retail space but unlike a dedicated pop-up shop they get the benefit of having the draw of other brands to get shoppers into the store. Breaking into physical storefronts give multi channel retailers an opportunity to curate experiences and engage their consumers at a deeper level beyond just digital platforms. Another advantage over a self-run pop-up store is that brands can still depend on the department store for store operations and management of the physical space itself, as they are typically running with lean teams and don't necessarily have the people or money to have full store ops teams. They also can leverage the technology of the department store – for example, Neighborhood Goods has an app that can push personalized notifications to shoppers depending on where they are in the store and what brands they are looking at. While self-run pop up shops are options as well, it puts the onus of technology and operations on the brands, so these emerging department stores are certainly an enticing option.
Brick-and-Mortar 
Done dipping your toes in the water and ready to jump into the deep end and open your first brick and mortar store? Well, you're not alone. A recent study shows eCommerce pure-plays are pushing into physical stores to the tune of 850 stores by 2023.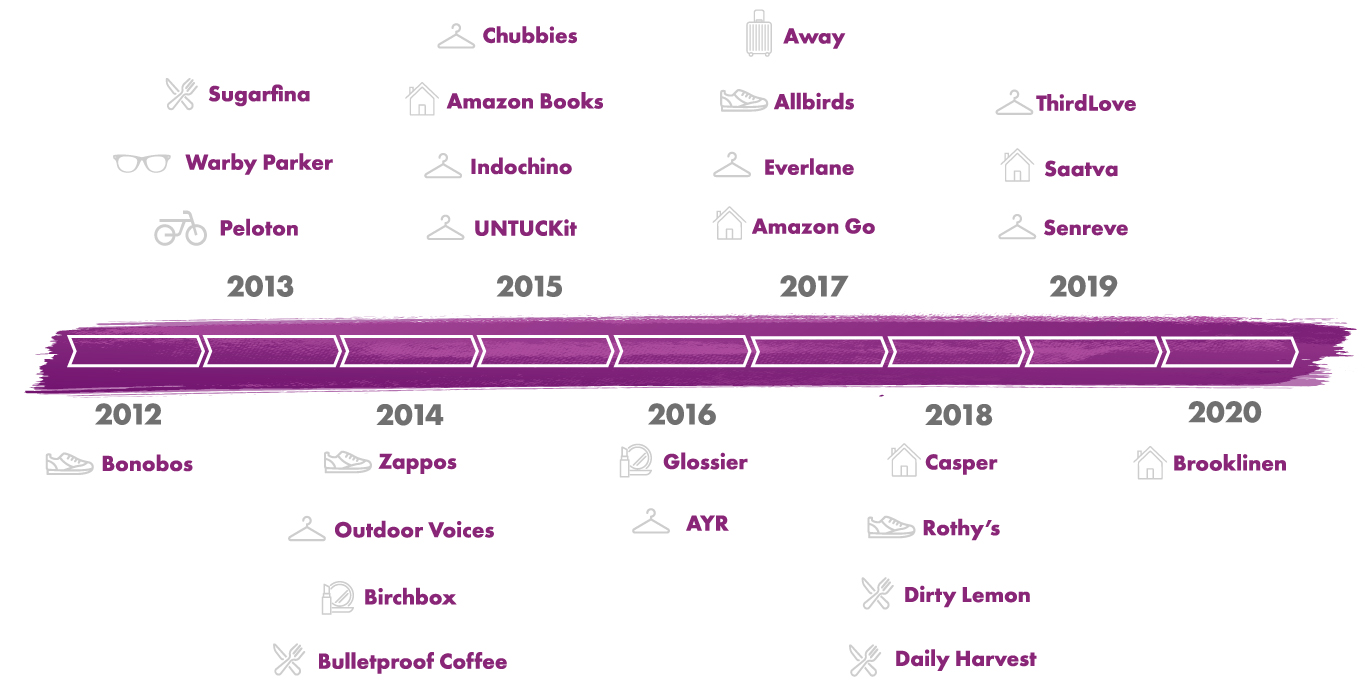 An Increasing Number of Online Retailers have moved into Physical Retail in Recent Years 
While opening a store is obviously the costliest option, especially since these "Store One" locations will likely be in expensive real estate areas such as New York City or San Francisco, they provide the most control over the brand image, consumer experiences, and innovative technology available to the retailer. Opening stores typically drive a halo effect which pushes more traffic to the website in local areas, allows for more one-on-one interaction with the customer, and will ultimately provide the most data and experience for the retailer to learn from. While there are plenty of considerations for brands to keep in mind as they map out their initial foray into physical retail, it is critical that they align on their ultimate purpose for the move, agree on success criteria and how to measure them, map out their ideal store experience and how technology will support it, and determine what adjustments they need to make to their supply chain to support the stores.
While the overhead costs of opening a physical location can be daunting in multi channel retail, with the right attention paid to the points above, moving into brick and mortar can be quite successful. We'll leave you with the following tips when planning your first foray into physical retail.
Maintain a consistent brand experience across channels while providing a compelling in-store experience which motivates customers to visit stores in-person.
Build omnichannel engagement by offering exclusive products, subscription deals, and promotions that complement online and offline channels.
Test product offerings in-stores through multi channel retail partnerships to increase customer acquisition and reduce capital investment in a stand-alone store
Provide value through convenience by offering in-store returns, unique product offers, or "try-before-you-buy" experiences that will drive more customers to stores
Understand the right demographic and geographic location for storefronts so that you position your brand where your target customers will go
Incentivize retailers to partner with your brand by offering sales incentives, promotional dollars, customer insights, and increased customer foot traffic
Subscribe to Clarkston's Insights
Contributions by Lorraine Mackiewicz and Sanji Johari.