The wholesale distribution industry is in a period of nearly unprecedented change and disruption. The role of a wholesale distribution company is transforming and expectations of their capabilities have shifted. To cope with this increasingly volatile market and remain competitive, they must address a bevy of disruptive elements for digital sales, including:
heightened expectations of wholesale distributors relative to sales, service, and customer data,
increased dissatisfaction with management insight into sales prospects,
increasing cost of winning new customers and growing existing customers, and
a decline in sales productivity, with less time to actually sell.
There's also been a push for a better customer experience, leading to increased focus on reliability, real-time processing, convenience, and relevance to customer's needs.  Adapting to these elements requires strategy and process changes supported by a foundation of technology precisely designed with the new competitive landscape in mind. Enter SAP® Hybris Cloud for Sales…
In response to strong gains from competitors (e.g., SalesForce, Shipworks, Shopify, etc.) and the opportunity to introduce a true CRM cloud solution, SAP has developed Hybris Cloud for Sales. It's designed as a full-range CRM cloud solution for today's world. From lead to quote, the end-to-end mobile solution enables a range of powerful capabilities, including:
integration with the ERP system to submit quotes to align with your internal approval process, and create a sales order,
real-time data retrieval and data input for reports, analysis, and metric information,
connection to social media,
supply chain collaboration capabilities with internal teams, customers and partners, and
access via mobile devices.
In the wholesale distribution industry, mobile flexibility is critical to enable fast access to information and analysis to help coordinate a sale. As a mobile solution, SAP's Hybris Cloud for Sales takes advantage of the Internet of Things (IoT) by moving customer information from silos in the back office into the hands of frontline sales teams. Hybris also improves the ability to conduct business offsite by making the latest information accessible on any device. With this flexibility, the sales team in the field can use Hybris Cloud for Sales to convert strategy into action. With this application, the sales force is able to list and prioritize their leads, understand key metrics for each sales opportunity, and generate sales quotes/orders – all while on the go.  Specific reporting (and graphics) may include:
customer prospect information,
tracking activities,
keeping tabs on the competitive landscape,
company information/news for key accounts,
guided selling materials for each deal, including steps to convert a prospect to a lead,
KPI and analysis,
user's calendar for scheduling,
appointment, phone call, or task creation,
add notes, and/or
pricing information pulled from SAP Hybris Cloud for Sales, or ERM system.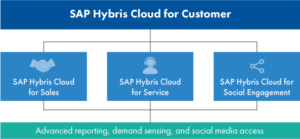 Though it may be called SAP Hybris Cloud for Sales, this solution is sold by SAP with alternative licenses. One advantage of a cloud solution is that SAP provides quarterly upgrades to the software, as opposed to annually for on-premise offerings. Cloud also reduces the required time and resources of the IT staff needed for support. If that's not enough, Cloud for Sales also happens to be the lowest cost option for use.
Larger firms may choose SAP's on-premise offering – a license-based model that can be purchased as term-based, perpetual, or a combination. Purchasers get complete access to the full set of software features, some prebuilt integrations extras, and the option to highly customize the software either through your own in-house resources or through third-party developers found through the extensive Hybris partner ecosystem.
On-premise Hybris Sales software is ideal for customers looking for full control and management of the solution. However, keep in mind that it can take a longer time to implement, have higher ongoing costs, and only provides annual upgrades. That said, it will provide access to the widest range of product features.
For those who prefer a "hands-on" management of the on-demand (cloud) solution, but have business needs that require the on-premise solution – there is a compromise. Hybris Managed Services can deliver a private cloud infrastructure with enterprise-class availability and performance without a direct investment in that infrastructure.
For smaller wholesale distribution enterprises, SAP offers an Edge Edition on cloud or on-premise.  This is a pre-packaged solution containing specific functions for the wholesale distribution user. Though not as robust as the standard offering, it comes in at a lower cost while still retaining key capabilities.  For many smaller wholesale distribution businesses, Hybris Sales can make a competitive difference in today's industry.
The various license opportunities that SAP offers are competitive with similar offerings from SalesForce®, arguably SAP's strongest competitor in the CRM space. I believe the combination of SAP HANA, Hybris Cloud platform, and out-of-the-box ERP integration give SAP Hybris Cloud for Sales the key market advantage.
We've reached a new frontier in the wholesale distribution world – one full of opportunities, challenges, and dynamic shifts in expectations. SAP Hybris Cloud for Sales enables powerful capabilities that can bring your organization to a better strategic position in the value chain.
Implementing new technology is a complex decision for any company but there's no better time to get started than today. For more on Hybris Cloud for Sales, wholesale distribution, or anything SAP, subscribe to our insights below or reach out to me directly using the contact information at the top of this page.
Caryn Hecht, a wholesale distribution industry lead at Clarkston, and Roger Weinberg, a SAP supply chain application principle at Clarkston, were key contributors to this research.
Join us at the SAPPHIRE NOW + ASUG Annual Conference 2017, Wednesday, May 17th at 12:30pm at S310C (South Concourse Level 3) as Clarkston Consulting's Nathan Keliher and Rajkumar Maheshwari, DW Manager from Benjamin Moore, walk you through a compelling example of how we have built a flexible and future-proof EDW for Benjamin Moore using HANA. The presentation will focus on the architecture, scenarios, and how we challenged ourselves for the most optimal design for flexibility, growth, in-memory footprint, and user experience.
Subscribe to Clarkston's Insights