Laboratory Information Management System (LIMS) implementations can be challenging due to the cost, commitment of resources, and other competing priorities within the company.   Despite this, the reward for taking on this challenge can be substantial. Whether it be a new implementation at an emerging company, an upgrade to an existing system, or the harmonization of different systems due to an acquisition/merger, the right system will provide the laboratory operations significant benefits through data management, optimization of processes and improved regulatory compliance.  Most companies start with a LIMS assessment and the next critical step is defining and building a LIMS MVP.
When you are ready to address the recommendations from your LIMS assessment to build a LIMS platform, there are several options available from out-of-the-box systems to highly complex, fully customized solutions.  Spending the time to make the right choice for current and future business needs can ensure success and greater return on investment.   The success of any implementation is strengthened by proper planning and execution, while a lack of a strategy coupled with unrealistic expectations will doom the project and waste valuable resources.  Prior to starting an implementation there are a couple of actions to consider.
LIMS Assessment: Define the Minimum Viable Product (MVP)
The Minimum Viable Product (MVP) identifies the core features to effectively deploy the LIMS solution in order to provide the initial necessary productivity.  The main goal of an MVP is to develop sufficient functionality that provides immediate value quickly while minimizing costs.  Starting with an MVP will allow the business to learn more about their processes and if necessary, make changes prior to consuming vast amounts of time and resources.
Typically, a LIMS MVP will consist of three key core processes: sample management, results recording, and reporting.  For example, an analyst will log a sample, record testing results, and generate a certificate of analysis.  For emerging companies who are evolving from paper-based or validated spreadsheets, defining the MVP will focus the implementation towards an easy-to-use system that could be implemented in a reasonable timeframe with minimal effort.  An MVP will also set the stage for future iterations of development and clarify the sequential steps to take in the project.
In addition to MVP, equal effort will need to be given to these other considerations:
Can the laboratory standardize and/or harmonize business processes in alignment with the implementation?
Can change management support the updating of SOPs, and analyst training required for the implementation?
Develop a LIMS Roadmap
After defining the MVP, a LIMS roadmap is the next critical step to realizing your desired goals.  A roadmap or multi-phase plan is a high-level overview of your implementation vision and direction over time.  The roadmap shows the overall strategy and anticipated effort required to achieve the objectives.  When creating your LIMS roadmap, consider the following elements:
Vision: What does the business want to achieve?
Key Milestones and Timeline: What are the key dates for configuration, data builds, and go-lives dates?
Key Functionality: What are the system requirements beyond the MVP?
Priorities: Are the required site resources available to be dedicated to the project?
Dependencies and Risks: What are the potential roadblocks or constraints?
The roadmap will set the stage for future iterations of enhancements and clarify the sequential steps to take in the project.  It can also be used to communicate the project timeline to showcase value to the stakeholders. Specifically, a thorough roadmap (similar to the one depicted below) should illustrate not only the iterative expansion of capabilities over time, but also should provide a sense of the incremental victories along the way.  Key milestones, including go-lives and site planning, should be included.  Every implementation will have challenges and hurdles, so defining your MVP and establishing the LIMS roadmap are the initial steps in the right direction for a successful journey.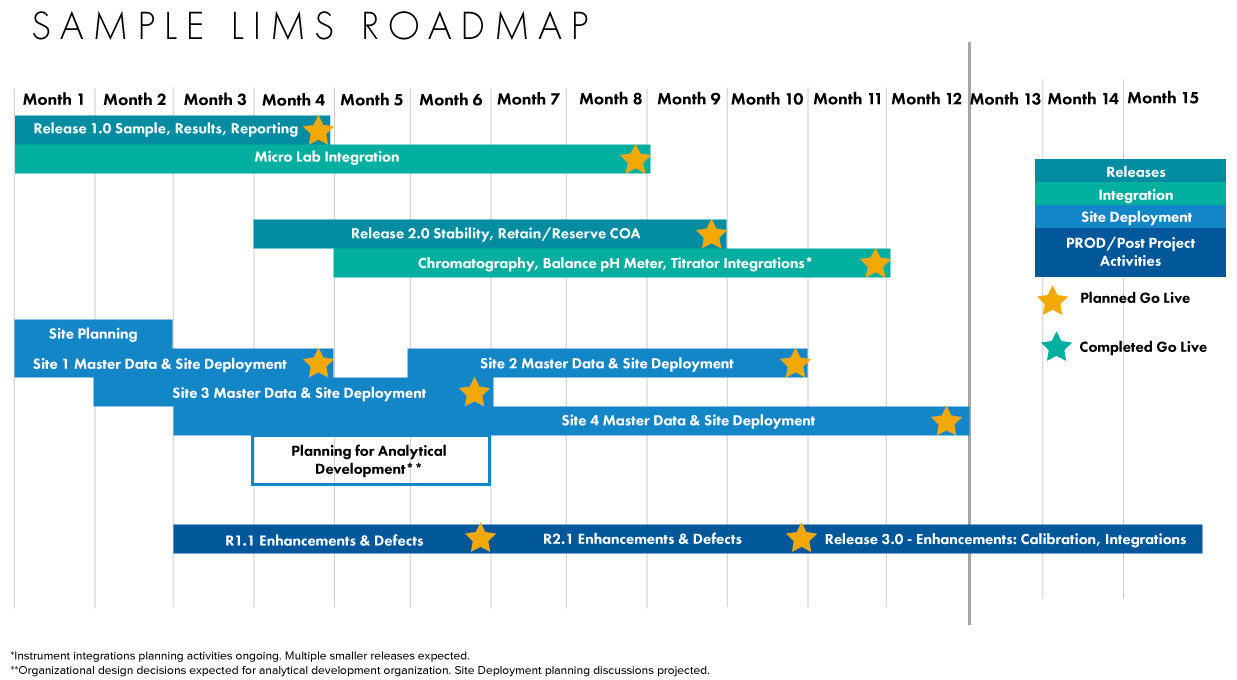 Start Your LIMS Implementation Journey
Turing your LIMS Assessment into a LIMS Build and Deployment is a long-term commitment. A LIMS system requires dedicated resources throughout the journey, from initial implementation to site rollouts to incorporating system enhancements and upgrades, to be successful but the return on investment is clear.
If you are looking for a consulting partner to help you get started on your LIMS journey, contact Clarkston today.  We have a variety of LIMS services to help – to take you on your journey from LIMS Assessment through your LIMS Deployment. consulting partner who can support you through this transition is a great way to get started.
Subscribe to Clarkston's Insights
Co-author George Adams.