A quality philosophy that focuses on a business approach to compliance versus a compliance approach to business is key to quality management, or EQMS. Organizations that nurture a quality culture, emphasize continuous improvements, recognize cost of quality, and implement effective quality systems will be able to leverage quality as a business differentiator for success.
Download the Full Webinar Here
Moving Away from Paper
Quality management often evolves from paper systems to electronic document management systems (EDMS) to robust quality management systems as the organizations grow. Paper systems can cause a myriad of issues – they require manual management, are time consuming and often costly to maintain, can lead to inaccuracies and incompleteness – all while making it more difficult to locate the single source of truth.
Adopting an EDMS can eliminate many of the drawbacks of a paper system, but it's not an all-inclusive solution. An EDMS does not track the closure and resolution of quality events, evaluate key operating metrics, or trend quality problems.
Modern Quality Challenges Require a Modern EQMS
A robust enterprise quality management system (EQMS) includes things such as automating life cycle management, automating of review/approval workflow, tracking quality events, enabling change control, performing investigation/root cause analysis, tracking corrective actions to completion, streamlining the audit process, integrating with other systems, managing supplier quality, and reducing compliance risks.
To get started transitioning from a paper system to a high-functioning EQMS, here are the key steps your business must undertake:
Define a minimum viable product (MVP) – identify the core features that meet business needs and can be implemented rapidly with minimal costs. This could include modules such as change management, CAPA management, and complaints management.
Develop a roadmap – this should include your vision for your QMS, key milestones, timelines, key functionalities, priorities, potential risks, and dependencies. Also, ensure that the QMS roadmap plans for a solution that is right for both current and future business needs.
Focus on data integrity – as a leading indicator of the state of quality in your business, data integrity is the prerequisite of validity and the key to achieving compliance
Data integrity issues are often complex, undetected, and difficult to remediate. Some actions we help clients take to achieve data integrity are:
Performing a robust data integrity assessment
Establishing an evidence-based, scalable data integrity methodology
Ensure upper management commitment to rectifying poor data integrity issues
Beyond the above, there are several steps businesses should take in the journey to an EQMS: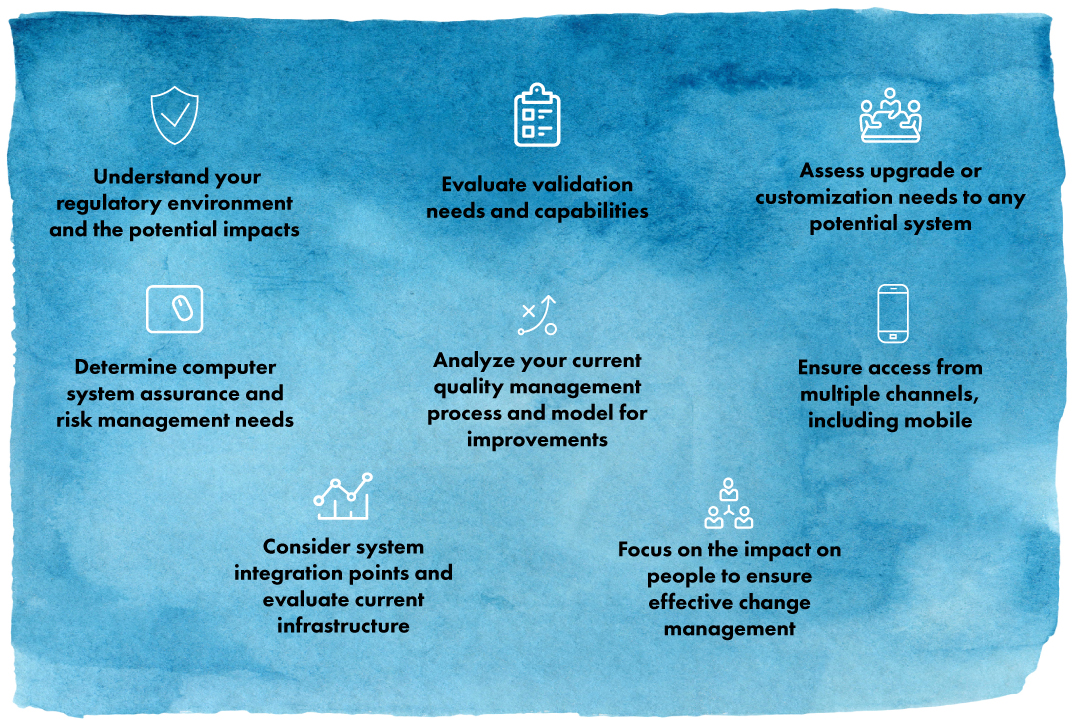 Moving to a modern EQMS can have impacts well outside the quality organization. With a carefully planned process for operationalizing an EQMS in your business, you'll be well-positioned to realize benefits and ROI more quickly.
Learn more about how Clarkston has helped businesses implement and optimize EQMS solutions and capabilities through the case studies and insights at the bottom of the page, or contact our team today.
Download the Full Webinar Here
Subscribe to Clarkston's Insights
Contributions by Helen Deng.