Good supply chain leaders review their people, processes, and technology periodically to ensure they are current with leading industry practices, fit for purpose, and aligned with the business trajectory. Although reviewing these is a proactive way to ensure tactics and strategies are aligned, it's not enough, as these are often subjective assessments. When objective assessments are added, we find there exists a stronger supply chain within the company. Establishing supply chain metrics and KPIs is key to unlocking greater efficiency.
Establishing Supply Chain Metrics and KPIs
The best objective assessments are KPIs (key performance indicators) and metrics. We often find organizations mistake the purpose and the differences between KPIs and metrics.  Frequently, organizations over-measure their teams in addition to not ensuring the metrics align to the KPIs. This causes disharmony throughout the organization, as the various teams (sales, marketing, operations, supply chain, etc.) are pulling in different directions. 
When establishing high-impact supply chain measures, it's important to ensure they are related directly to your corporate strategic objectives.  An example of this could be if the company goal is to improve customer satisfaction, then a key supply chain metric is delivery time. If the goal is to improve margins, inventory management is a common KPI.  It's critical that the KPIs flow down from the top and the metrics and measures to meet those KPIs flow down from those.    
When choosing what KPIs and metrics to implement, it's important to remember the following: Not all metrics are KPIs, but ALL KPIs are metrics. The following table can be used to assist those who are new to establishing, understanding, and leading organizations today to ensure the correct measurements are established.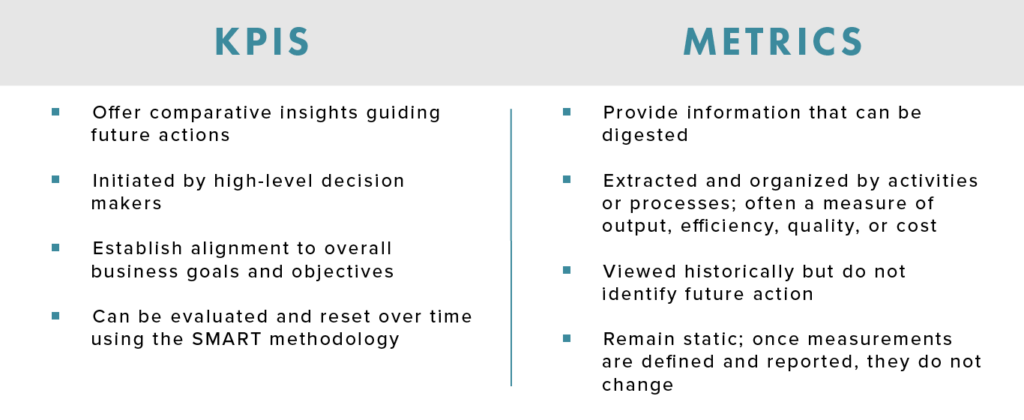 Data Accuracy, Integrity, and Validity 
When establishing the measures that the metrics will be built upon, organizations begin by using easy-to-obtain data, which has high integrity. Assuring the organization knows what the data measures are, how they are defined, where the data comes from, and who provides the data, in addition to its reliability and accuracy, are all critical elements for ensuring trust within the organization. If the metrics and KPIs aren't built upon information that everyone trusts, then you're lacking that data integrity.   
The single most cause of contention within organizations is data accuracy and integrity. Spending time to verify and validate the source data for all the measures is worth the investment.  Change management is always a challenge when implementing KPIs and metrics; therefore, having assurance that there are no conflicts with the base data and measures will support organizations more than any other project or program in which they could invest time or resources.   
Once the verified data measures are completed, the work begins with being able to build and verify the metrics to support the KPIs. It's recommended to use organizational team members who understand the cross-functional effect on the business functions along with any financial implications. This team should be tasked with establishing the organizational metrics based on supply chain and finance best practices. A key resource that can assist your organization in developing these can be used within the SCOR (Supply Chain Operations Reference). This organizational team should also be tasked with documenting how the measures are used within the calculations, ensuring the validity of the metrics and keeping them as simple as possible. Additionally, they should be able to provide instruction to those who are impacted by these new/changed metrics. 
As a new metric is added, a common method used within businesses is to initially gather the information and metric results for a baselining period of time. As there is nothing to set as a goal, it's important to determine what an appropriate range could be and to review the findings and goal with those impacted stakeholders. Once there is agreement on the goal or the min and max setting, the metrics should become part of the regular review cadence. When there are deviations to the agreed upon settings, actions should be identified and documented to ensure the metrics move back to a controlled level.   
The following is an example of how a new metric may not lead to the results expected:   
Company A's leadership and finance team believed manufacturing was not absorbing the correct labor cost for the products they produced since they were only backflushing labor instead of reporting the actual time worked on the product. They perceived they had a labor costing issue, and with the increased volume of production required, there wasn't a need to increase the production staff.   
A pilot was designed, and manufacturing team members reported actual time worked against each step on the work order. At the end of the pilot period, all the data gathered was consolidated, and interviews were conducted with a variety of stakeholders. The findings: more time was spent posting actual time (the complex routing in place was required for the product being MFG) with very little improvement to unit costing.  
The data showed a 95% correlation between theoretical and actual. During the project closeout, it was noted that the reason the actual versus theoretical time was so close was the robust annual review process for BOM and routings – as well as individual job variance reporting (a metric already) – that identified trends (none seen in the past 12 months). The process change was canceled, and all had renewed confidence in the metrics and KPIs to drive the business forward. 

Benchmarking to Identify Supply Chain Metrics and KPIs 
Companies with good supply chains use benchmarking to identify the metrics and KPIs that are most important to them. Benchmarking also offers an opportunity to rank the company against peers. It's best to start with just a few KPIs and then add more as the company evolves. 
The following Supply Chain KPIs are just a few of those which should be considered:  
Strategic: perfect customer orders; on-time, in-full orders; margin percentage; overhead costs as a percentage of revenue 
Process: Forecast bias; production schedule adherence; demonstrated capacity; on-time to promise; on-time to customer request date 
Inventory: inventory turns; days of supply; inventory to target levels; stockouts 
Production and Receipt: deliver to schedule (procurement); capacity utilization; asset utilization; production to schedule (daily, weekly) 
By viewing the supply chain metrics and KPIs holistically to build the business and as an input into fact-based decision-making, companies with good supply chains find themselves more productive, able to anticipate disruptions or issues, and capable of building high-performing teams ready for whatever comes their way. 
Clarkston is often asked to participate in redesigning supply chain metrics and KPIs. Our data and analytics team can digest thousands of data points to visualize an end result that is both meaningful and insightful for client. How can we help you?  
Learn more our about supply chain consulting services
Subscribe to Clarkston's Insights