In the United States, people are obsessed with their pets and this obsession is impacting the pet food market. It seems like every other picture or video on social media is a sleeping puppy or mischievous kitten. People absolutely adore their furry companions and will go to incredible lengths to care for them. Whether it's going for long evening walks, watching movies on Netflix, or celebrating family birthdays, pets are family. In many ways, our affinity for pets has translated into their exceedingly humanized treatment. Nowadays, like humans, pets often get their own special beds, toys, clothes, and – in some cases – even Facebook accounts. Some owners will do anything for their pets, and as of late, many have been taking critical stances towards traditional pet food. Similar to the trends of health-conscious consumers we're seeing in the overall food industry.
Owners Want to Feed Their Pets the Best Food Possible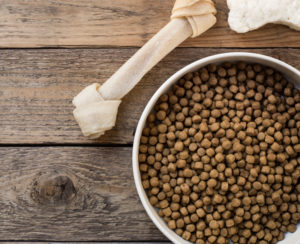 Are the "Premium" brands of chow actually good for pets? In the past, customers purchased pet food from the store without a second thought. Now, however, with plentiful information available at the touch of a button, customers are more vigilant when selecting products (of any type), and this trend has carried over to pet food. Similar to how many owners purchase their own food on the basis of nutritional value and ingredients, they are reading critically into pet food labels and doing research on what exactly they are feeding their pets.
The Regulatory Landscape for Pet Foods
Currently, the FDA and the State Departments of Agriculture are responsible for pet food regulation, based on the Association of American Feed Control Officials (AAFCO) Official Publication. Despite written regulatory protocols, many educated pet owners are seeking a higher degree of federal and state regulation. Increasingly, customers are seeking out transparent labeling and confirmation of quality ingredients to provide the healthiest possible meals for their pets.
Dedicated owners have turned to websites like "dogfoodadvisor.com" to sift through peer reviews and ingredient information. Moreover, trends like "raw feeding" have surfaced, as owners have more skeptical of processed pet food. Even though stores like PetCo and PetSmart have transitioned to selling exclusively "high-end" pet food, many savvy owners are still unconvinced. Despite these trends, pet food manufacturers have the opportunity to revamp their strategies.
Pet Food Manufacturers Must Prioritize Traceability and Transparency
In order to meet the demands of educated pet owners and, most importantly, provide healthy meals for pets, pet food manufacturers must emphasize traceability. Customers are becoming keen at reading labels to and honing in on any "mystery" ingredient names that sound ambiguous; therefore, demonstrating safe, ethical usage of healthy ingredients will be paramount to swaying buyers. Ingredients – from farm to manufacturer to store – must be tracked and documented clearly.
If the integrity of a batch is compromised, manufacturers must be aware and prevent the transfer of dangerous pet food. If they don't, they will likely elicit a recall and take a major reputation hit. For example, a 2007 melamine recall elicited a $24M lawsuit that hurt the reputation of major manufacturers. One way to improve traceability is to apply tactics that have succeeded for advancing serialization in the pharmaceutical industry and recalls in the food industry.
Pet food manufacturers should not view increased customer expectations as a challenge but an opportunity. New companies like Transparent Nutrition have grown drastically in popularity for sharing all ingredient and processing information with pet owners. Founded and run by veterinarians, Transparent Nutrition differentiates itself by clearly stating the origin of ingredients (antibiotic-free chicken and brown rice) and testing every batch for contaminants including toxins, bacteria. For full transparency, the company makes all quality testing results available for customers and veterinarians. Other companies can follow this example and apply these tactics to improve their own offerings.
Strategies to Improve Pet Food Marketing 
With the market for pet food projected to increase to a substantial $30 billion by 2022, pet food manufacturers will undoubtedly need to implement new strategies to compete. Aside from making quality food for beloved pets, pet food manufacturers can boost their products through creative marketing techniques.
For better or for worse, social media has become a popular place to discover videos featuring food and pets. Producing videos that focus on the intersection of the two will be a great space to capitalize and win over customers. Clever, short-form videos that display vibrant, all-natural ingredients and explain how such ingredients meet pets' nutritional needs could become a refreshing method of advertisement. In addition, engaging online pet-centric blogging communities could help establish better rapports with pet owners and give pet food manufacturers insights into how they can improve their offerings. Being highlighted by accredited websites or TV stations can go a long way for developing brand trust.
The Bottom Line
Pet food manufacturers must prioritize safe practices that lead to healthy food that pets deserve. Demonstrating the care and thoughtful selection of ingredients that goes into pet food will go a long way in calming customer skepticism. Not only that, the shift in demand to higher quality food is an opportunity for pet food manufacturers to employ new marketing strategies to differentiate themselves.
If you found this information interesting, subscribe to our blog to receive the latest insights:
Subscribe to Clarkston's Insights
Co-author and contributions by Adam Kershner.