Customization in marketing has inherent appeal. The idea is that as you increasingly branch your customers onto different marketing journeys, those journeys will be more relevant to the customer, increasing messaging effectiveness. Customization's logical endpoint is a single marketing strategy for each customer. In pharma, this goal feels both desirable, and finally, achievable. Pharma companies have so much data on the behavior of their healthcare providers (HCPs), which should allow them to jump in at the right time, with the right messaging, in the right channel, and influence that behavior. That is true, in part. The underlying assumption is that commercial teams can do something at any time, which is the best thing for that customer, to achieve Commercial Operations' goals. This is the crux of "Next Best Action" (NBA), an increasingly common north star in healthcare marketing. 
"Next Best Action" in Provider Engagement
Three developments have enabled this vision to feel within reach: 
Data Foundations – Vendors have gotten better at executing quick turnarounds on changing strategies, A/B tests, and customization. They are improving at collecting data on the back end, working with data engineers to integrate the data effectively, and mapping to the right physician. 
Wealth of Channels – There is not much to a "next best action" if there are only a few actions to choose. Fortunately, the opportunities have exploded for most pharma companies to develop a wide range of digital, "pull" marketing avenues. These tactics complement tried and true "push" marketing processes. 
Advanced Analytics Capabilities – The promise of NBA relies on the presumed magic of machine learning models. Companies are improving their machine learning techniques, with data scientists embedded in commercial teams informing strategy. Predictive analytics can draw upon the wealth of past activity and back-in to what actions were effective and in what circumstances. 
Having this baseline in place (which is not a given) is still not enough to jump into an NBA model. Knowing the next best action means delivering the right content, at the right time, in the right way, to the right person. It means creating a positive customer journey by doing all that with consistency. That is a complex puzzle, even if you start with the corner pieces.  
Learn more about our pharma and biotech analytics consulting services
Companies risk losing momentum trying to achieve the grand vision of the NBA model, leading them to miss other high-value customization opportunities. Teams should instead focus on developing a suite of achievable, intermediary steps on their way to that grand vision. These will double as invaluable learning opportunities on what works and how HCPs behave, which can inform a "Next Best Action" provider engagement model.
Breaking Down the "Next Best Action" 
One way to break down the "Next Best Action" (NBA) is to address its component parts with intermediate steps around channel, content, and timing.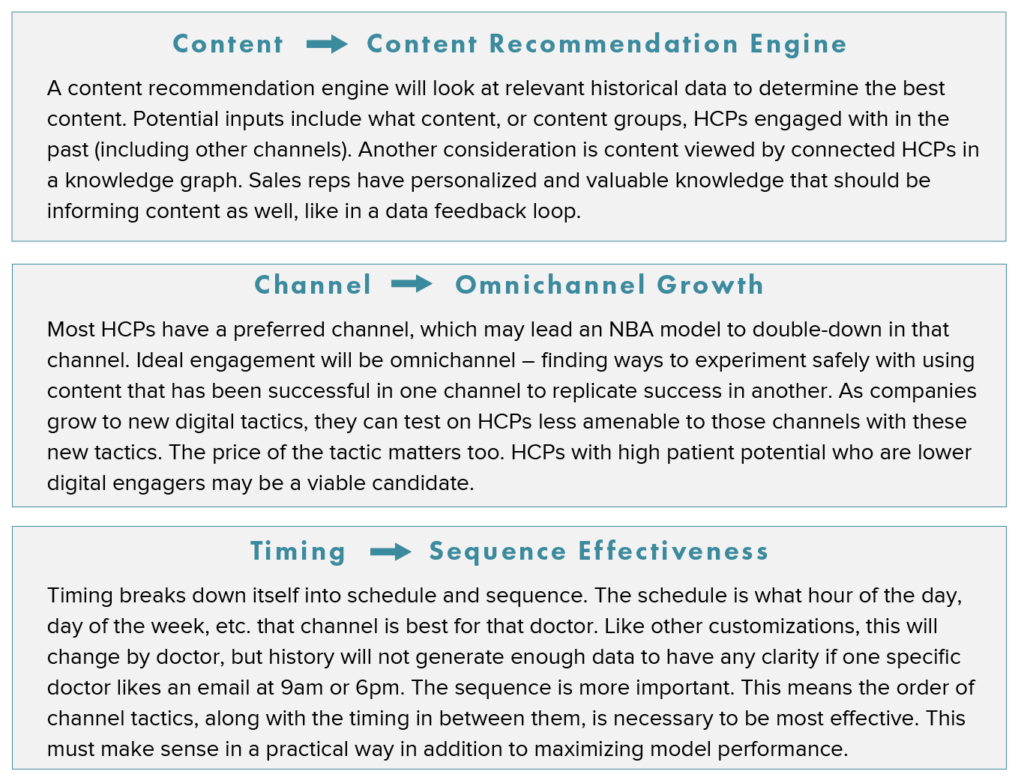 Difficult Conversations 
The complexity of the NBA challenge is not readily apparent, and there is a reason out-of-the box solutions of pre-trained algorithms can have difficulties gaining buy-in. Better conversations with business stakeholders, rather than better models, are crucial to solving these problems. The following are two examples of key hurdles teams need to address with any NBA framework (by no means a comprehensive list): 
Goal Balancing: The first part of building any model is determining what you want to predict. Do you want to increase engagement? Is increased engagement valued equally in each channel? Do you want to increase total prescriptions, new patient starts, or some other clinical behavior change? How much are you willing to jeopardize customer experience to push for clinical behavior change? The answer to this question will radically change NBA outputs. 
Rules vs Algorithms: Each action informs the next. Any NBA framework will learn from the last. Can the same content be sent three times in a row? Should companies obey when the model says to hold off on the 7th email of a seven-email journey? Should a rep visit an HCP even though they had been there three days ago? A collection of business rules begins to tackle this, but then how much of a "next best action" model will you have left? Any NBA model will yield strange recommendations. Companies may jeopardize adoption if they are not prepared to justify and/or adjust recommendations with business rules as mentioned above. There will be mistakes, and all parties need to act like a machine learning model in learning from them. 
Small wins will beat out big failures. Intermediary steps will help gain insights and prepare for the complexity of figuring out what NBA recommendations should look like. Teams could even decide to flip the approach and pursue a "next best customer" model to better prioritize reps' time.  
Regardless of the framework, teams should incorporate practices that will maximize value: be iterative in the analysis and in the testing, provide effective communication on the methodology that generates the recommendations, and take feedback seriously. A good test to know if a "next best action" model is working correctly: sometimes it recommends no action at all.  
Subscribe to Clarkston's Insights
Contributions from Jake Park-Walters