Ethical sourcing is no longer just a business objective, it's a responsibility. During Covid, OpenText conducted a survey of 25,000 global consumers across 12 different countries, aiming to better understand how consumer shopping patterns changed during Covid and how they felt about ethical sourcing – essentially, sourcing products in an ethical and sustainable matter – and its impact on consumer expectations for the delivery of product. Ultimately, the OpenText survey highlighted the importance of ethical sourcing to consumers, with over 81% of those interviewed indicating in the affirmative. Within this group, 20% also shared that this only became important during Covid, as they gained a better awareness of ethical sourcing due to the shortages within the supply chain. Further research supports these findings that consumer attitude toward ethical sourcing is changing. In this piece, we explore the importance of ethical sourcing in the supply chain and its imperative as a responsible approach to supply chain management. 
Forward Movement for Change at Multiple Levels 
Steve Banker, a leading industry and technology consultant conducting research on ethical sourcing, shared his theory that "the only true way to know if ethical sourcing is important to consumers is to evaluate where money is being spent."   
We've seen examples where consumers have helped drive ethical sourcing, and it shows in their purchasing habits. Consider the ban on ivory trade. As consumers became concerned with the decline in the elephant population, there was a call to action to ban the sale of ivory. In 1989, CITES (Convention on International Trade in Endangered Species) banned the international ivory trade to save the endangered elephant. This caused significant repercussions across the global market, as ivory had been used for jewelry, piano keys, works of art, and Eastern medicine. Manufacturers were forced to find alternatives.   
Another example is within the chocolate industry. Today, there are chocolate makers who have moved away from purchasing palm oil, which isn't certified by an accredited sustainability body. This is because of the harmful effects palm oil has within the areas it's grown and harvested. The notable concerns are deforestation, pollution, loss of biodiversity, impact on global warming, human rights, child labor, and the taking of indigenous people's land. 
We've also seen changes within our food chain, which has been driven by the consumer. Consider the movement for human farming for poultry, swine, and dairy animals – consumers now look for grass-fed and free-range on labels.  
These examples demonstrate the impact consumers have on a market as they become aware of an issue, grow passionate about change, and drive for the ethical sourcing of products. It's therefore increasingly important for companies to be aware of the products which they procure.   
How does ethical sourcing become a standard way of working? 
Businesses can incorporate ethical sourcing into their culture by ensuring the company has a written and visible commitment to ethical sourcing. Guidelines should be written aligned with the company's core values, ambitions, and desired outcomes related to an ethical sourcing strategy; these could be called out in terms of guidelines (e.g., no forced labor) and/or more broadly (e.g., net positive on carbon emissions). The guidelines should also be aligned to external norms (e.g., international conventions, laws, standards, frameworks, or other recognized instruments) as well as included in their sourcing policy and/or standard operating procedures (SOP).  
It's important to share their commitment with suppliers to ensure the company's ethical position is understood. These details should be engrained in every stage of the procurement process, from supplier management to evaluation and engagement, to ensure a consistent, comprehensive, and holistic approach. Furthermore, these principles should be well understood throughout the entire organization. Ethical sourcing isn't just for the sourcing and procurement team – it's a factor for the entire company.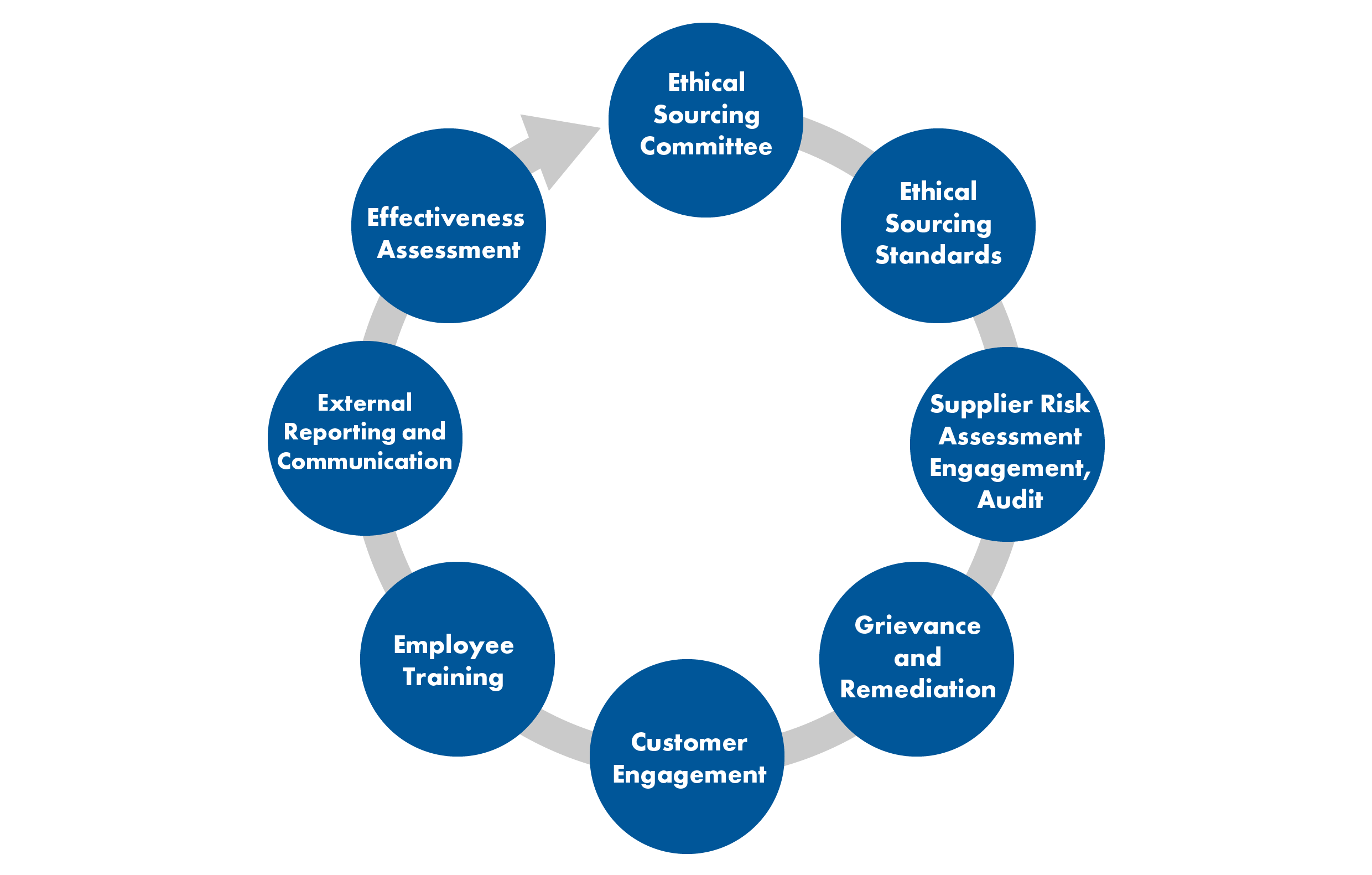 Challenges of Ethical Sourcing 
Monitoring suppliers' behaviors in a global economy, especially when overseas, can be difficult. Cultural diversity adds to the complexity; a single code of conduct may not be enough. Ethical practices can impose extra costs to companies. In the OpenText survey, nearly 70% of respondents indicated the necessity for governments across the world to introduce regulations by which businesses are held accountable for responsible sourcing.  An example of this can be seen within the U.S. in 2019, when it stopped imports of clothing, gold, diamonds, and other items believed to have been produced with forced labor in Brazil, China, and Malaysia. Additionally, in 2015, the U.S. and U.K. passed the (end) Modern Slavery Act, with the goal to eradicate modern-day slavery domestically.  
However, the improvement in ethical sourcing can't just rely on governmental control and oversite alone. Companies should recognize the impact of not having an ethical sourcing strategy and how it can and/or could affect their profitability, customer satisfaction, cost, efficiency, and increase the risk within their supply chain. The incorporation of an ethical sourcing strategy will drive not only improvements to the aforementioned areas, but within the environment and overall society, too; it will also allow for the governance of the process. 
There are successful companies today that have committed to focusing on and making ethical sourcing a priority: 
Patagonia shifted from using pesticide-heavy cotton to organically grown cotton in 1994. 
Starbuck purchases C.A.F.E Certified Coffee, Fair Trade and Organic. 
H&M is committed to supply chain transparency, and they publish a list of their suppliers' names and addresses; they also have a responsible sourcing goal of using 100% recycled or sustainably sourced materials by 2023. 
Adidas established protocols to ensure that child labor is not part of its supply chain – the trigger for this was the 1998 World Cup, where it was revealed that child laborers in India were manufacturing soccer balls. 
Ethical Sourcing: The Path Forward  
Clarkston has assisted many companies in evaluating their supply chain with respect to ethical sourcing. We have helped audit, develop, and implement organizational ethical sourcing strategies and processes. Our end-to-end supply chain assessments with deep dives into suppliers provide insight into continuous improvement initiatives to shore up a company's ethical sourcing directives and visibility for the organization, consumers, and suppliers. 
Learn more about our supply chain consulting services here. 
Subscribe to Clarkston's Insights