Over the past several months we have witnessed business uncertainty being lifted to unprecedented levels. As we look back into the impacts of COVID and at pre-existing economic trends, one should avoid thinking in absolute and equal effects; exploring across industries, and diving deeper within industries we see a wide range of different impacts of COVID industry by industry, and organization by organization.
As we look forward into the new normal, our advice is to similarly avoid conventional thinking, assuming changes will be permanent or equally applied, but rather to understand the elasticity of the drivers and behaviors, to then assess the likelihood of returning to a sense of normality, discern permanent transformations, or estimate temporary shifts. Not every trend is created equal, some will continue to grow, others will slow down, and some will be left irrelevant. Thinking in absolutes will only cause leaders and their organizations to place the wrong bets and be left behind during these uncertain times.
To help our clients navigate through this complexity, we created a simple framework that can be used to evaluate such trends and ensure that organization leaders are focusing company resources in the most promising areas.
Trends that Accelerated in 2020 
Many trends were already beginning to take shape in the year prior but were accelerated and prioritized over other investments as a result of the events of 2020. In most cases, these initiatives were already a strategic focus for businesses but were often delayed due to competing priorities or the lack of significantly demonstrative proof of value. Examples of accelerated trends include B2B + DTC, Omnichannel, and Telemedicine.
Direct to Consumer (DTC) sees massive growth. According to Forbes, 52% of DTC brands have seen surges in demand whereas 80% of traditional retailers have seen sales decline since the start of the pandemic. The DTC market was worth $17.5 billion in the US in 2020, a 24.3% increase over last year. Another effect of consumer's turn to online shopping is the growth of Omnichannel. Nielsen reports that 72% of shoppers are omnichannel shoppers.
Acceleration of the demand for Omnichannel purchases. As shoppers move across channels, the events of 2020 pushed the buyer to be more open to jump from one to another seamlessly; we estimate that 72% of shoppers are omnichannel shoppers.
Social-distancing spurs popularity growth of Telemedicine. During the first quarter of 2020, the CDC reports that telehealth visits increased by 50% compared to the same period in 2019, with a 154% increase in visits noted in surveillance week 13 in 2020. The majority of telehealth visits during this time period were for patients seeking care unrelated to impacts of COVID-19.
Trends Created in 2020
Other initiatives, strategies, or tactics that were previously non-existent or underdeveloped were brought upon by the unique circumstances of the COVID-19 pandemic. Though born out of unique circumstances these trends could linger in certain areas and situations. These new trends include virtual organizations, hyper accelerated drug development, and extreme sanitation.
The growth and acceptance of Virtual Organizations. Virtual organizations, or organizations with the majority of their labor force working in a remote capacity, have taken off during the pandemic. According to a University of Chicago study prior to 2020 around 5% of American work-days were spent working from home. In 2020 this number climbed to 50%. To support this trend organizations invested more than ever before in collaborative tools and video applications. It is also estimated that only 23% of Business headquarters space is currently being used in the US.
Compressed drug development timeline. Another initiative born out of 2020 is hyper accelerated timelines for drug-development. In order to meet the intense pressures for vaccine development, life sciences companies have been forced to digitalize their technological ecosystem. This transformation was originally projected to occur within the next 5-10 years and has instead occurred in a matter of months, according to Pharmacy Times. While reductions were expected to shave a few months in an already elongated timeline, we have seen years taken out of the traditional drug and vaccine development process.
Extreme sanitation becomes a standard operating practice. In response to the impacts of COVID-19 pandemic businesses found a need to invest in extreme sanitation like never before. March's Aerosol disinfectant sales were up 400% over the same period in 2019. Other organizations made more long-term investments, like clothing retailers investing in UV technology to sanitize returned and tried-on clothes.
Trends Delayed in 2020 
The unique circumstances of this year caused many focus areas or previously integral undertakings to be rapidly – and in many cases completely – deprioritized or delayed indefinitely. How and if these trends resume in a post-pandemic landscape will be situation-specific. Examples of delayed initiatives include real estate investments, talent acquisition, and mergers and acquisitions.
Slowed Investment in Real Estate. In conjunction with the newly popular virtual organizations fewer organizations made investments in real estate. Cushman & Wakefield estimate that global office space vacancies will not return to their pre-COVID levels until 2025.
Decreased Investment in Talent Acquisition. In reaction to the uncertainty of Spring 2020 talent acquisition was slowed with 40% of businesses implementing a hiring freeze or reducing hiring.
M&A activities take a back-seat to immediate issues. Organizations found themselves needing to focus their attention on their immediate health, pushing growth initiatives, like mergers and acquisitions off of the agenda. PCE Investment Bankers reported a 31% drop in M&A activity compared to the same time period in 2019.
Evaluating the Future Outlook 
Considering the diverse impact of the trends and initiatives mentioned, we could only expect an equally diverse set of predictions and forecast for the future. Some trends have significantly and permanently changed patient, shopper, or consumer behavior and will require businesses to adjust accordingly. Many were largely circumstantial and will "snap back" because patients, shoppers, or consumers will want or will be able to return to "business as usual" as soon as it is possible. A few of other trends with a finite life, in most cases they will be discontinued almost completely and rather quickly in the post-pandemic business environment. One thing is certain, and is that an absolute and equal impact or behavioral change should not be expected, but rather, a critical evaluation of its elasticity and ability to return to previous performance levels (or not).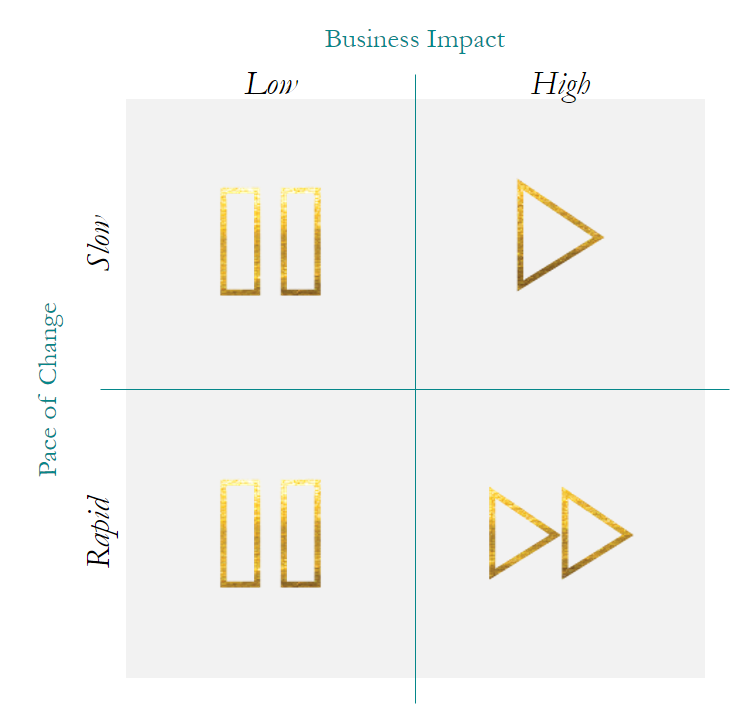 At this point, in the midst of so much uncertainty, leaders are making decisions with imperfect information; historical demand is scarce at best, and the need for decisive action is critical. Instead of assuming holistic permanent changes, or on the contrary, expect harmonious temporary effect and full return to the old performance is flawed. Leading organizations should have a critical method to evaluate  the business impact of the trend, and the pace of change of the trend; this simple yet critical analysis will lend itself practical in deciding whether you should speed up your investment in a particular area, or be cautious yet continue, or simply moderate your investment. For example, if consumers are moving faster to DTC, and that will have a huge impact to  business, having a temporary solution to a permanent trend is the wrong strategy; on the contrary, organizations should be bold and launch all in into this.
By evaluating the trends using this strategic framework organizations can be more certain of their investments, even in uncertain times.
Complex problems require system thinking which is often hard to include in normal human problem solving; the events of 2020 have forced organizations to rethink almost everything and through that overwhelming task, many have fallen into the trap of absolutes; having a critical analysis of the business impact and pace of change will prove to be a valuable tool in navigating complex decision making during these critical times due to the impacts of COVID.
Subscribe to Clarkston's Insights
Contributions by Madeline Smith