Since 1972, SAP has been unlocking the value for businesses by providing them with their extremely powerful and flexible SAP ERP solutions.  Starting with mainframe-based solutions, then moving with the technology evolution through client-server and finally to the Cloud based and In-Memory solutions of today, SAP has been and continues to be at the forefront of solutions allowing their customers to be the best they can be.
Prior to their S/4HANA solutions, the SAP R/3 and ECC solutions were delivered with a standard delivery methodology that SAP called "The ASAP Methodology".  This methodology became the gold standard of ERP implementation because it allowed both the flexibility and repeatability to consistently deliver an SAP ERP Solution that allowed firms to unlock maximum potential from their business.  The ASAP Methodology consist of 6 project phases that project teams progress through as they take their project from conceptual to operational.
The six phases of an SAP ERP Implementation Project following the ASAP Methodology:
Project Preparation
Business Blueprint
Realization
Final Preparation
Go Live
Post-Production Support

Several years ago I was involved in an ERP implementation with a  Wholesale Wine and Spirits Distributor with two large distribution centers.  They engaged Clarkston to help them migrate off their old SAP ERP solution and onto a Greenfield SAP ECC ERP solution.  They had been working on a ERP system that had been provided to them as a shared service by another firm in their industry and had to leave that solution within a year.   The company had limited in house IT support and their backs were against the wall.  They were on a "burning platform" and had to get off with a firm deadline and at risk of incurring large financial penalties.
The Key Objectives of the project were as follows:
1.       Migrate in less than one year before they started getting billed excessive usage penalties or worse, left without a business system
2.       Maintain the excellent customer service they were known for with no interruption of service
3.       Mirror their existing processes as close as possible to minimize change management given the short timeline
4.       Maintain their World Class, Six Sigma level of inventory management of 99.99995% inventory accuracy
Through a tremendous effort by the client's team and a group of top-notch Clarkston SAP experts, following the ASAP Methodology, the client was migrated and live on their new in-house system in 9 months.   The client was able to take orders, support their customer's and deliver the product from Day 1 of going live on their new system.  And when they took their first physical inventory after running on their new system for several months, their world class inventory accuracy had been maintained.
This project was a classic example of a firm getting tremendous value by following the ASAP Methodology.
Since then, SAP has since mainstreamed the rollout of their latest ERP technology solution: SAP S/4HANA (S4H).  S/4HANA is a in-memory technology solution that runs without the constant accessing of disk drives.  In spite of the high speed and reliability of modern disk drive technology, S/4HANA's ability to operate and process transactions entirely in memory gives it dazzling computing speed way beyond the capabilities of disk-based solutions.  This in turn increases performance for the business users and allows them to be more productive than ever before.
Along with the new underlying technology of their latest ERP Solution, S/4HANA also is delivered with more pre-configuration options that moves the implementation in more of a "Agile" direction for solution implementation.  Accordingly, SAP rolled it out with a new project methodology name the "SAP Activate" methodology.
SAP Activate helps the customer to reduce project costs and implement the S4/HANA solution with a shorter project duration as clients can use accelerators with pre-defined processes delivered up front. This approach streamlines all phases of the ERP project starting from the kickoff of a new SAP project implementation and continuing through and after Go Live.
Here are the five phases of an SAP implementation project following the Activate Methodology:
Prepare
Explore
Realize
Deploy
Post-Production Support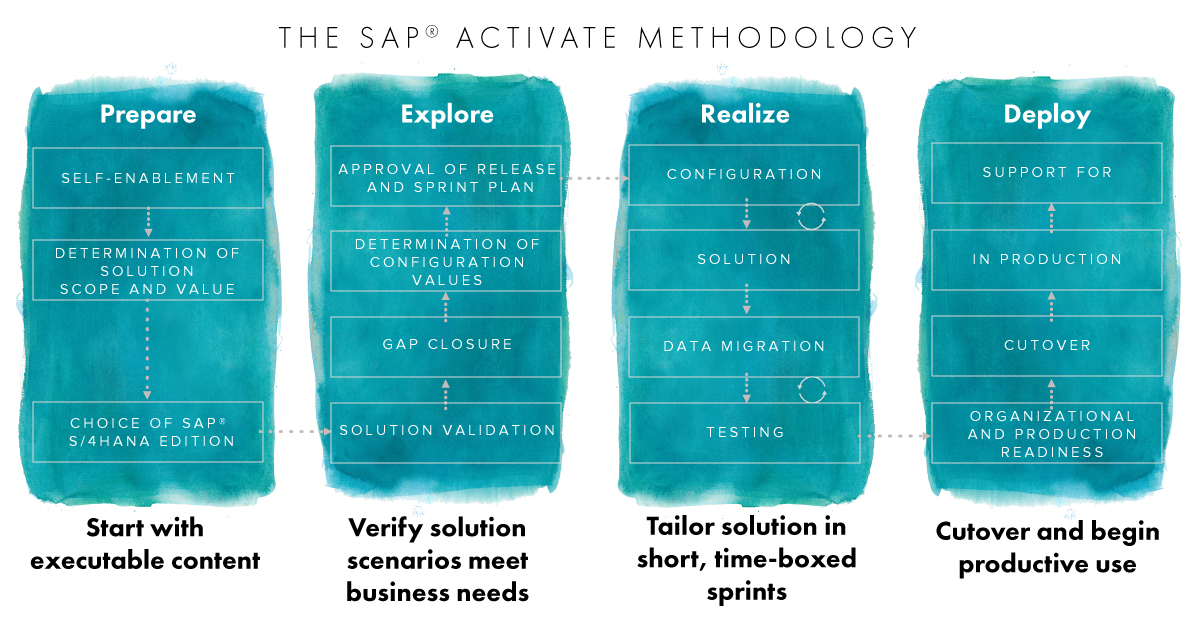 The SAP Activate Methodology
Clarkston Consulting is taking the lead in running with this approach by rolling out pre-configured "SAP Accelerator" solutions for Life Sciences, Consumer Products, and Wholesale Distribution industries.
These accelerator solutions delivered by Clarkston Consulting will included preconfigured solutions, custom developments, system documentation and training materials that will change system delivery from the historic approach of "Gather Requirements-Build-Test-Test-Test-Go Live" to a model of "Gap Analysis-Solution Adjustment-Test-Go-Live".   We will be able to deliver proven solutions for these industries in a shorter time frame with less risk.  Thus, helping our clients unlock the value of their business faster and cheaper than ever before.
As ERP solutions have evolved, it is wise to evolve the implementation approach along with them.  Clarkston's SAP S/4HANA Accelerator Solutions for Life Sciences, Consumer Products and Wholesale Distribution keep us at the forefront of that evolution.
Subscribe to Clarkston's Insights