Snapchat has been frequenting the headlines this month with news around their IPO and stock performance. While investors try to determine whether SNAP's future looks more like Facebook or Twitter, retailers are looking for creative ways to use Snapchat to reach their consumers.
Snapchat has more than 100 million daily users and reaches 11% of the United States' digital population. One of the primary reasons that Snapchat has taken off with is the whimsical nature of the filters that are available to users. Want to see what you would look like as a deer? Snapchat has you covered! Want to FaceSwap with your bestie? Snapchat has you covered there too! Want to use a Starbucks-sponsored filter to show off your Venti Skinny Vanilla Latte? Well, at a price that can be covered too. One of the first things a Snapchat user will do after taking a picture is look to see what filters are available for their picture, and companies can catch their eye with an interesting graphic design to frame selfies for a designated length of time, or in a specific location. Geofilters can be a relatively inexpensive but can spread like wildfire through Snaps and stories alike. It's an easy way to get a brand shared and create a genuine reaction amongst viewers.
Why Does This Matter to Retailers?
Around 70% of Snapchat users are women and approximately 76% of Snapchat users are also online shoppers. And, although Snapchat tends to have a younger audience, more than half of new users currently signing up are over the age of 25.
Retailers have taken quickly to having Facebook, Twitter, and Instagram accounts but Snapchat offers some new features that can't be found in other social media channels.  For example, the whimsical filters we mentioned earlier is actually augmented reality technology.  Filters that can help prospective buyers imagine what a specific cosmetic color would look like on their face or how a piece of furniture can look in their home suddenly have a new set of buying criteria.
With so many people taking to the platform, celebrity takeovers have been a great way to gain account notoriety. Under Armour had members of the US Women's National Team snapping pictures and videos from the 2015 FIFA Women's World Cup, drawing fans in who then stick around to see insider UA snaps of gear, behind the scenes photo shoots, and other cool video that isn't available on other platforms.
Some retailers are extremely creative with the content that they put out – it can be engaging and thoughtful – without breaking the bank. One of my favorite companies on Snapchat is Taco Bell – they do an amazing job of putting together funny videos that definitely have me craving Cheesy Gordita Crunches regularly.
Retailer and Shopper Engagement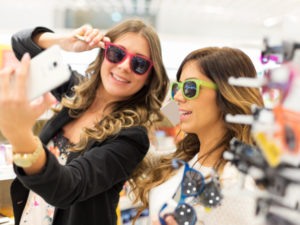 Through Snapchat retailers can also have great interaction with their viewers. Want to get feedback on two styles of sunglasses? Have users take a screenshot of the one they like more. Tell users to Snap you pictures of them using your products, and maybe they will get featured in your story. It's no secret that consumers want to be heard, and with the private nature of Snapchat they can give you feedback without it being shared with everyone else. Getting everyday users in your story is also a sure-fire way to get account adds as they tell all their friends how famous they are!
Sponsored Ads prove the trickiest of the three forms of advertising that we've mentioned thus far. The reality is that this is the costliest to produce and then expensive to post on the platform. The ROI for retailers is also debatable as Snapchat currently allows users to bypass these types of ads with a tap of the finger.  While there could be a solid ROI on the spots put on Snapchat retailers should be cautious before creating expensive sponsored ads.
All in all, whether or not Snapchat is here to stay – it's definitely a place retailers need to be now. It has moved beyond just being a millennial platform and has picked up mainstream buzz.  It doesn't have the content depth of Facebook, but it is more visual than Twitter. Taking a step back from the stock price stir, I do know the platform can get retailers to stand out from the crowd now.
Subscribe to Clarkston's Insights