SAP Warehouse Management (WM) has been an ERP functionality offered since the late 1980s. WM is a solution to manage standard warehouses. Its functionalities include management of stock at storage and bin locations, picking strategies and replenishment logic, yard management, and RF technology.  
It's important to consider that warehouses in the late 80s, however, were not as complicated and sophisticated as they are now. Warehouse operations now are increasingly complex, and customers continue to demand more from their warehouses in terms of visibility and transparency. As a result of the more intricate operations, there had to be a management tool to meet those demands, which is where SAP Extended Warehouse Management (EWM) came into play.  
EWM is not new itself, but it has gone through significant development since 2005 when it was first incorporated into the SCM module. 
What Has Changed? 
Since 2005, there have been a number of changes to EWM. EWM is much more robust and flexible. While WM was originally designed as part of SAP ERP working with other logistics modules, EWM was designed to do that and more, including also being able to run as a decentralized system. This means that businesses can use EWM as part of the ERP landscape working with other logistics modules and as part of an independent SCM landscape. 
Below is a comparison between the functionalities of WM and EWM (courtesy of SAP).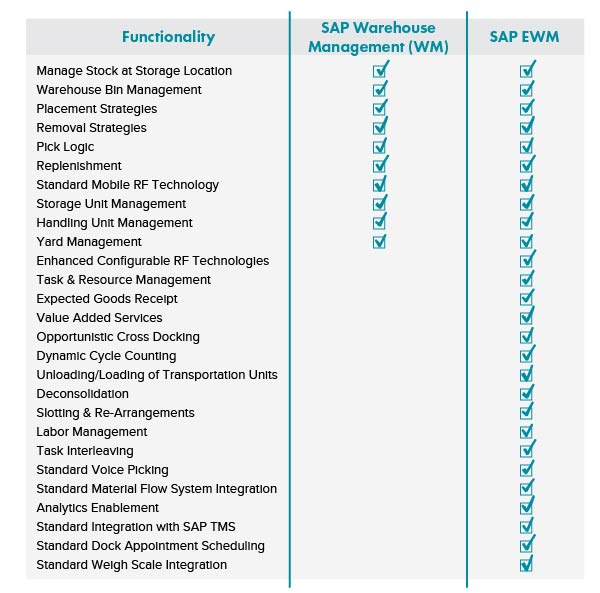 Key Benefits of SAP Extended Warehouse Management
When companies are deciding whether or not to implement EWM, they should consider one word: "robust." EWM has the capability to manage the simplest to most complex warehouse operations, providing additional functionalities that WM cannot. EWM can provide, for example: 
Visibility throughout the entire supply chain operation, from warehouses to distribution centers, 
Flexibility and automation to handle high-volume transactions, 
Cost reduction given maximization of resources, and 
Additional inventory accuracy enhancement capabilities. 
Making the Switch to SAP Extended Warehouse Management
SAP has provided migration tools to make the migration from SAP WM to EWM relatively easy from a technical standpoint, and the concepts are close enough to make the learning curve for the client relatively small. However, for those familiar with WM and hesitant to make the switch to EWM, here are a few considerations that might help move you toward being implementation-ready: 
EWM has the same documents, just in different names. The WM transfer request/transfer order to move stock in the warehouse are now called warehouse order/warehouse task (TO line item) in EWM.  
While WM movement type determines the TO creation, EWM uses an enhanced process type that determines what task to create in the warehouse (using document types as a reference).  
EWM provides much more capability once the migration is done. There's stronger control based on process types, more robust RF options, and solid integration with SAP QM. The Warehouse Monitor is a "one-stop" cockpit to manage all activity in the warehouse. 
By 2025, SAP will not support any more development for WM, and EWM will get the top billing on S/4HANA as the default new warehouse management solution. For companies looking to get started with SAP EWM, our expert team of SAP consultants is ready to help. 
Subscribe to Clarkston's Insights
Contributions by AJ Jamal