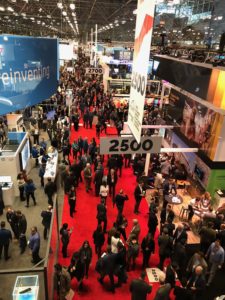 Take a look back at NRF 2018 and the important trends highlighted. Interested in NRF 2019? Sign up to receive our event recap here.
2017 was a strange year for retail. We spent most of the year hearing about the "retail apocalypse" and the demise of retail as we know it as it paves the way for the all-powerful being that is Amazon. While the threat of Amazon is very real, retail ended the year on a high note, posting the biggest increase in holiday sales since 2011. As the calendar turns to 2018, the retail community gathered as we always do, in New York City at the National Retail Federation's BIG Show, NRF 2018, to see and discuss what is top of mind going into the next year. While shows in year's past presented powerful, innovative concepts, I was excited to see some very valuable, tangible takeaways that retailers should have from this year's event that can guide them into the uncertain future.
The importance of digital in driving in-store experiences
The biggest focus area for this year aligned strongly with that of the NRF 2017 show as well, in that retailers should constantly be looking for ways to entice their customers to visit their stores, and reap the benefits of increased engagement and loyalty of multi-channel shoppers. Bringing information to the fingertips of their customers in stores similar to the way they do online is vital for customers who want to feel informed as they walk the aisles. In the past, we've heard of beacons and tablets serving as the technology in the aisles, but this year the focus is on interactive displays, digital signage, and proactively incorporating a mobile experience were front and center.
As more shoppers walk into stores with their phones in their hands, it was no surprise that Apple's presentation focused almost exclusively on the mobile commerce aspects of the latest iOS. This went beyond the obvious Apple Pay functionality, and went as far as Apple declaring that they want the iPhone, paired with in-store near-field communication (NFC) and radio-frequency identification (RFID) technology, to be part of the shopper journey itself, and not just at the register. While NFC and RFID is hardly cutting-edge technology, with Apple leading the push we could see more uses for it in store. That's not to say that other channels were left out, as desktop and mobile commerce are still going to expand as we move forward into 2018. The opportunity for retailers to create consistent, holistic digital experiences and personalization opportunities across channels will not only attract new customers but encourage them to stay engaged, regardless of where they are looking to make their purchases.
A renewed focus on the store associate as a vehicle to drive engagement
Happy employees, happy customers. A novel concept, perhaps, but a topic that was hit more this year than any previous NRF I can remember. For obvious reasons, retailers are consumed with how to get customers in their stores, and how to make them happy once they are there. We hear about all the great technology that can achieve this year in and year out. However, in a time where great service is considered table stakes to get customers into the store, retailers should be looking to invest in ways to best empower their associates to serve the customer. Digital technology not only allows companies to inform their customer, but can increase the speed of information from leadership to front line employees. Arming associates with clienteling technology so they can learn from previous touchpoints with the shopper will not only increase the shopper's satisfaction, but will increase the happiness of the employee as well. A quote that stuck with me from NRF 2018 came from Rob Massie, Senior Director at Dollar General, who spoke of a frictionless store associate experience and said,
"We want to wow our customers but also want to wow our associates." Rob Massie, Senior Director at Dollar General
Look for strong retailers to continue to invest in their associates and seek to make them a competitive advantage in 2018.
Reinventing the way we retail
The fundamental way that we shop is up for reinterpretation, given the power of technology at our disposal. Perhaps the most intriguing, and likely encouraging, sign for retail is the amount of ways that are being discussed to buy a product through non-traditional methods. Augmented reality has been a hot technology for over a year now, but we now have data points of retailers who have been able to do it successfully. Automated retail (think really big vending machines) are becoming cost-effective alternatives for retailers who want to put their product in places that require high dollar per square foot investments. Perhaps one of the more exciting new concepts that was discussed is Apple's plan to pilot their Business Chat functionality later this year with select retailers. This will allow shoppers to get answers to questions on products, resolve issues, and even place orders through text message functionality, direct with retailers. With ideas like this coming our way in 2018, not even to mention new concept stores like Amazon Go, it's hard to see retail as in an apocalypse, but in a state of opportunity.
A few other interesting topics from NRF 2018:
There was not much talk about Bitcoin this year, which was surprising given the recent press it has been given. The general message was "on the list of things that retailers should be worrying about, Bitcoin is not near the top."
 Omnichannel may have officially taken its last breath as a buzzword. While it's still critical for retailers to have the right product in the right location at the right time, it has very much moved to "table stakes" for most big retailers.
For many retailers who have invested heavily on technology and innovative ways of doing business, 2018 is going to be a year of stabilization and optimization. Artificial intelligence and machine learning are going to be big for retailers who have the building blocks in place to utilize a trove of data to provide the most optimal experiences and information to customers.
Thank you to the National Retail Federation for another year of a magnificent event. If you have found this information valuable and would like to receive future insights about the retail industry, subscribe to our insights below or take a look at the services we provide. Also, you can view other NRF articles on the event website.
Subscribe to Clarkston's Insights