A Fortune 500 life sciences organization was spending close to $100 million annually on a critical initiative that deployed hundreds of contractors on behalf of the organization. Historically a very successful strategy, the client came to Clarkston Consulting with a simple mandate:  how can we make this workforce more flexible, efficient, and even more effective?
Our clients are always on the lookout for ways to be more demand-driven and more agile in market-facing ways; however, in order to support this external agility, internal operations must be equally responsive. Understanding that businesses are, first and foremost, built on people, Clarkston set out to answer three strategic questions for our client:
What is a demand-driven workforce and why are companies embracing it?
How can we design it?
How can we make it work for you?
What is a demand-driven workforce and why are companies embracing it?
Interest in being more flexible or demand-driven is growing across businesses but not always for the same reason. Any given organization can choose to adopt a new workforce design for a variety of goals. Most often, firms seek to establish a workforce that is capable of proactive strategic planning, responding to unplanned market events, driving customer-centrism without sacrificing quality, centralizing disparate programs, or simply maximizing savings. Regardless of the reason, businesses can expect four higher-order benefits at all levels of the organization after implementing a next-gen workforce model. The graphic below is our perspective on the four higher-order benefits a business can expect to achieve in implementing this type of organizational model.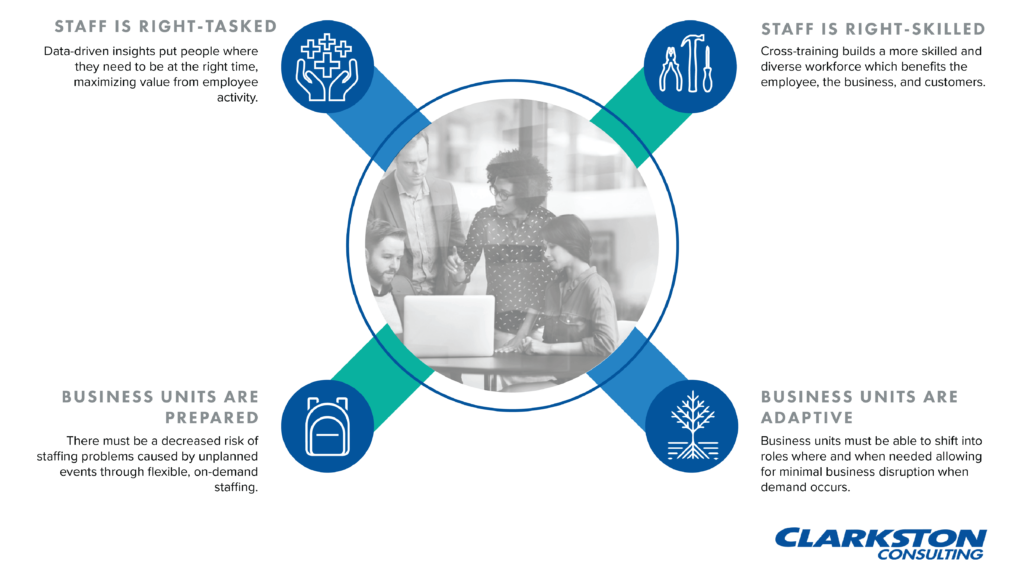 There are myriad perspectives on how workforces can be designed to bake-in flexibility, but they vary in what they focus on and sometimes seem interchangeable. There is "lean," applying best-in-class operations principles (e.g. six sigma) to the workforce in an effort to optimize. There is "liquid," relying on digital tools to entrench and bolster collaboration. There are tons of others as well – agile, flex, green, etc., that all cater to ideas like accommodating work preferences, augmenting skills, increasing bandwidth and boosting productivity. While all of these are great, each alone only solve pieces of the problem. At Clarkston, we developed a unified definition of the next-gen workforce:
"A demand-driven, cross-trained workforce that uses existing resources, enabled through technology, and steered by data."
How can we design it?
A big part of what we do at Clarkston when we need to create new-to-world, innovative solutions is to look for anyone, anytime, anywhere that has solved a piece of the problem and draw connections. In developing a new workforce model for our client, we set out to find companies and organizations across industries that we felt embraced a demand-driven workforce in a differentiated way while demonstrating real, positive results. We started by looking at some technology giants that publicly tout their organizational structure, such as Spotify's "Squad" Framework. From there, we found other stellar examples in other industries like automotive, snack foods, specialty retail, banking, business services, healthcare, energy, entertainment, and academia.
To make our findings actionable, we deconstructed these cases to distill and synthesize powerful core principles which,  when combined, create a comprehensive set of guideposts for next-gen organizational design.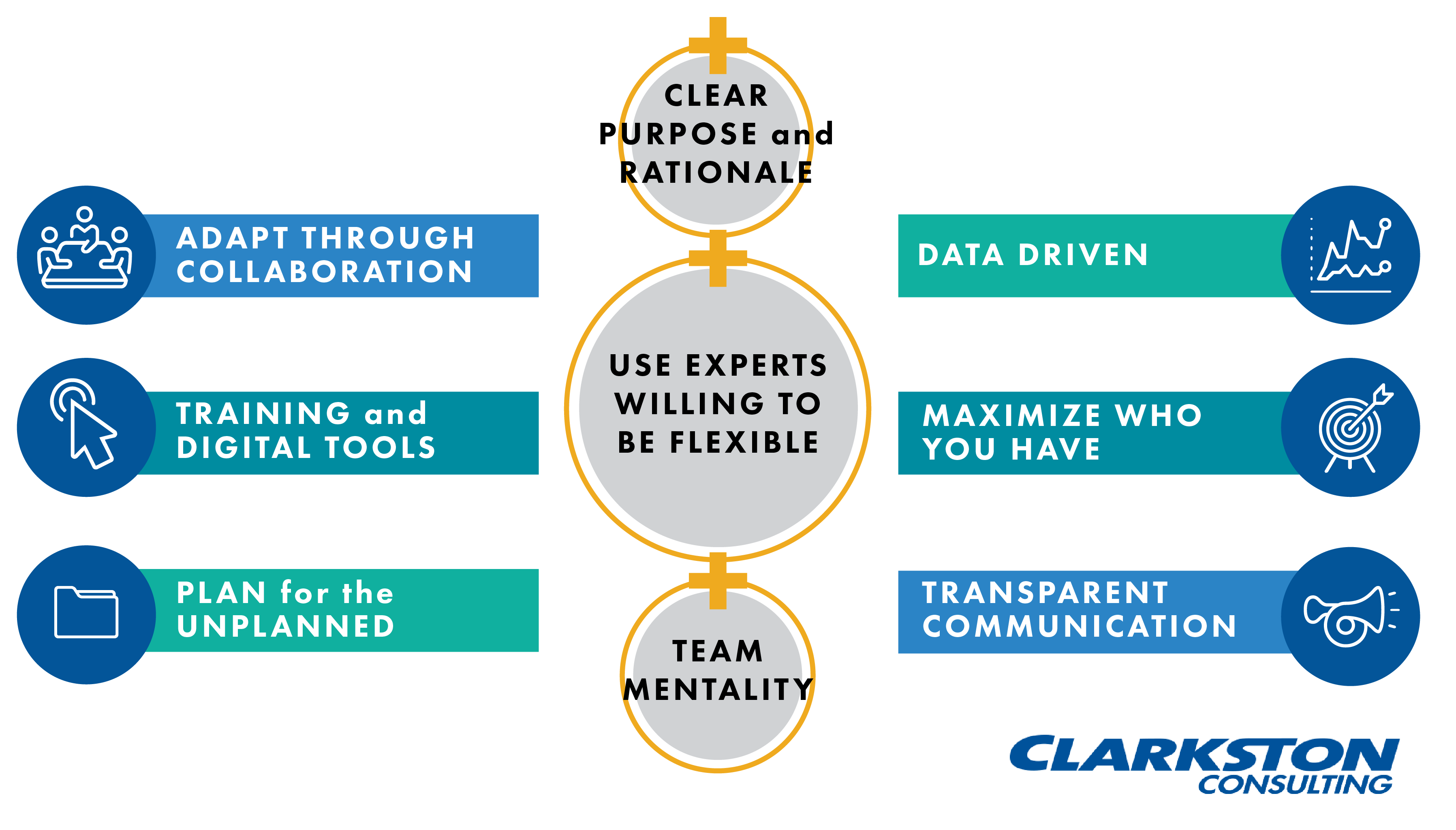 ---
Each of the principles below played a role in developing a next-generation workforce program for our client.
Clear Purpose & Rationale: Organizational redesigns can carry negative connotations with the stakeholders they affect- some may feel they may be losing resources or be disrupted during implementation. It is critical to communicate a strong business case that includes the primary drivers of demand, problems the redesign will solve, and the business benefits of the new model.
 Frito-Lay: Matches talent supply with customer demand
Use Experts Willing to be Flexible: Next-gen workforces start and end with the people involved. Employees must have the motivation and capacity to learn in addition to their deep expertise.
Bupa Hospital: To deal with volatile demand in hospital staffing, Bupa created a pool of employees to be utilized on an "on-call" basis to fill voids in staffing availability. This talent pool consisted of industry veterans and former full-time hospital employees that are happy to work part-time and demonstrated enthusiasm for keeping their skills updated.
Foster a Team Mentality: A new workforce design can only work if it is based on a culture of coordination and empathy. Frictionless resource flexing is the reward of the belief that collaborative compromise is better than a "zero-sum game."
GE Appliances: GE FastWorks project teams have a singular focus: bring a new product to market. This laser focus allows them to work unencumbered by bureaucracy. FastWorks teams have all members needed to make critical decisions at any given time- bringing formerly adversarial stakeholders together as business partners.
Adapt through Collaboration: Unilateral decisions in reaction to market changes will cause organization tension, leave executional gaps, and expose businesses to significant risk. It is imperative that decision making is shared to coordinate strategic resource deployment. By doing so risk, disruption, and confusion is minimized.
 Spotify: Spotify uses networked teams to solve for specific challenges and improve functionality, design, and the user experience. These networked teams are structured to foster collaborative, self-governing ecosystems that can respond to market changes and internal innovations.
Drive through Data: Analytics affords businesses the opportunity to make smarter decisions around everything from drivers of demand to activities and training. Basing a next-gen workforce on hard data maximizes impact and optimizes resources in ways that intuition can not.
Tesco: Tesco implemented a workforce strategy that focused on optimizing store coverage and cutting the cost of overstaffing. By using data sources such as historical revenue, store traffic, and employee availability, Tesco was empowered to place resources in the departments where they would have the highest impact on customer satisfaction and store operations.
Support with Training & Digital: If resources are expected to be agile, they need to be supported. Training must cover the necessary skill sets and knowledge required for the role of a resource will transition to- without being overwhelming digital tools, when used appropriately, can allow resources to cover more ground and add more value through efficient delivery.
Ford: Ford's "Digital Worker" initiative provided its employees with a full suite of productivity tools, but recognized employee uptake would be a challenge due to the learning curve associated with new technology implementation. To ensure utilization, Ford developed programs that familiarized employees with these new tools through classroom training and hands-on practice.
Maximize Who You Have: Next-gen workforces are not about cutting resources, but finding ways to drive more business value with existing resources. This is accomplished by creating frameworks around what work gets done and empowering resources to control how they work.
Lyft: Lyft introduced a new service called "Lyft Line" as a way to increase revenue, decrease fares, and optimize driver routes. By picking up multiple passengers with nearby destinations and given a route based on predetermined experience factors, Lyft drivers can choose to generate up to 3x more revenue while delivering a best-in-class rider experience.
Plan for the Unplanned: An impactful workforce enables a business with the ability to react. By accounting for "known unknowns" that could impact resource demand and preparing scenarios, businesses can pivot against market fluctuations with agility and effectiveness.
Frito-Lay: Frito-Lay manufacturing plants rely on manufacturing processes that are complex and serve multiple brands; filling orders are at risk when employees call in sick or when low quality raw materials arrive at the plan. Frito-Lay proactively cross-trains their highest skilled operators to perform basic roles across all brands to product production schedules.
Be Transparent: Designing and implementing a next-gen workforce affects many stakeholders (e.g. business owners, training, onboarding, vendors, customers). By making sure all stakeholders have a seat at the table and everyone's voice is heard relieves anxieties and ensures a design that works for everyone.
Tesco: Tesco identified workplace "myths" regarding the changes brought on by their new scheduling process, such as how managers could make changes to a shift at will. To dispel these myths and reduce change-related stress, Tesco established an open dialog with employees to discuss concerns and help them understand the reasoning behind the scheduling initiative and how it impacted workers.
Each of these principles had a role to play in developing a next-generation workforce program for our client. After mapping out current processes and gathering feedback from cross-functional stakeholders, we leveraged each principle for ways to augment strengths and minimize our weaknesses. From there, sophisticated models and pilots were developed to articulate the bottom and top-line impact. After creating the strategy and operationalizing the newly laid out ambition we found we could save our client a potential $10 million to $20 million while driving more customer-centric delivery.
Contact us for more examples of next-gen workforce behaviors in action.
---
Making it work for you
In a next-gen organizational design, all of these principles can be configured to your specific situation to realize the specific benefits you need. To get you started on this journey, here are several questions we recommend you consider:
What are the business challenges you see in your current operating model?
How many other stakeholders are impacted by these challenges, and are they shared?
What specific business benefits are you looking to realize through an organizational re-design?
Are the benefits worth some degree of self-disruption?
Are your people, customers, and business partners happy with current levels of delivery?
Do you have feedback, at all levels, from everyone in your organization that would be impacted- including outside vendors, internal partners, and customers?
Is your ambition large enough to make an impact but realistic enough to be realized in the short term (<12 months)?
Regardless of industry, competitors are fiercer and customers are savvier than ever. Staying ahead of the curve and reacting to market swings is foundational to survive in the marketplace, but supporting that external agility internally is crucial in sustaining it. The beauty of developing a next-gen workforce lies within its ability to locate hard to find cost-savings while actively supporting growth through customer-centric delivery. If you think a next-gen workforce is right for you, or would like to learn more about Clarkston Consulting, please subscribe to our insights below.
Co-author and contributions by Stephen Moulton
Subscribe to Clarkston's Insights