The Applications Managed Services (AMS) landscape is evolving from a transactional relationship to a support partnership. We are seeing that clients are not just looking for their AMS service provider to simply intake tickets and meet the agreed upon Service Level Agreements (SLAs). AMS service providers are now expected to provide much more than just timely, quality resolution of tickets. Below we've outlined a few of the areas where a next generation AMS partner can and should demonstrate a more modern approach to the managed services partnership.
Ticket Identification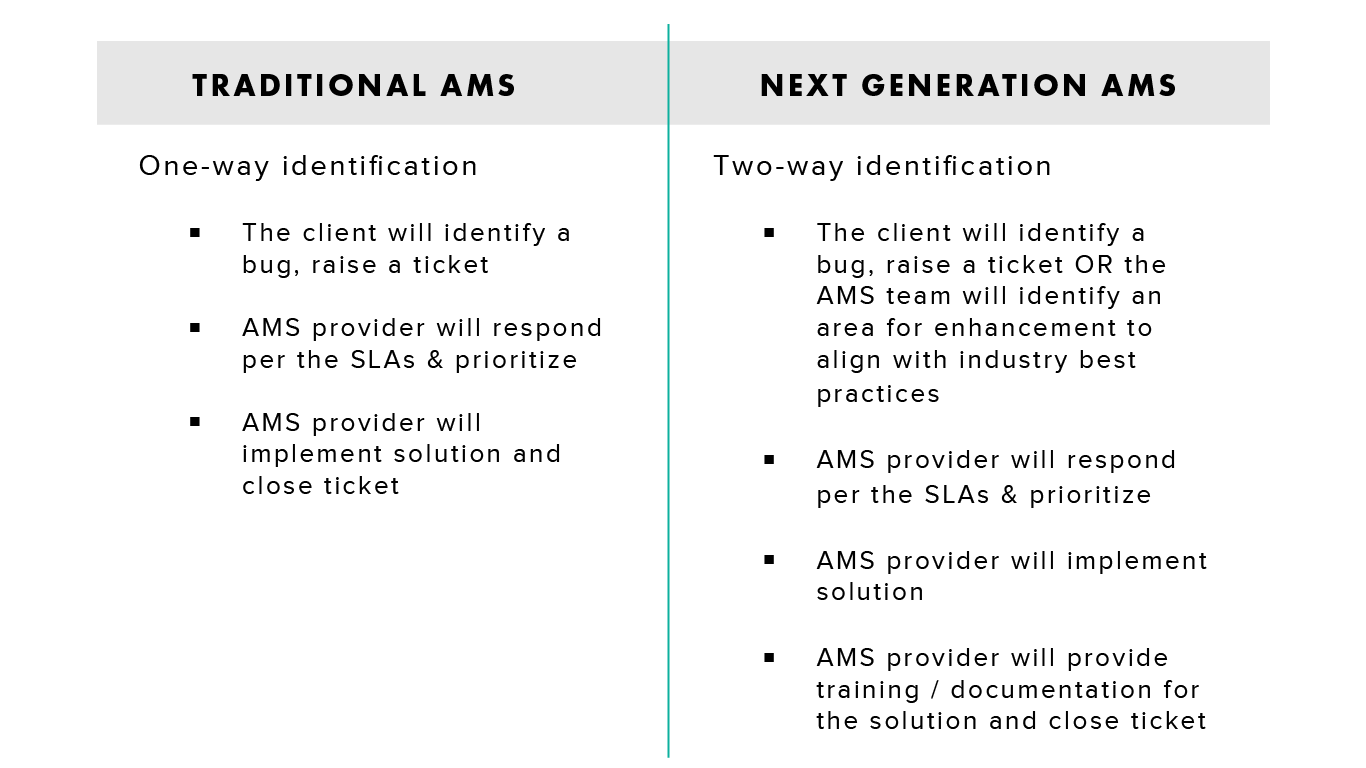 Takeaway: In next generation managed services, both the client and the AMS team will raise tickets and jointly prioritize the changes to be implemented.
Strategic Alignment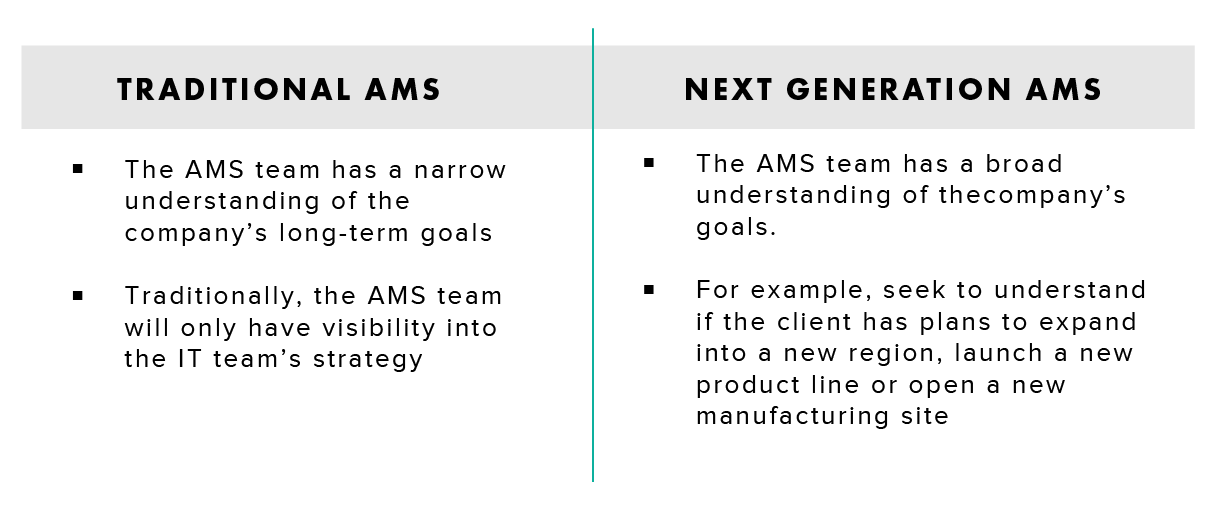 Takeaway: When the AMS team has a better understand of company wide goals, they can better advise how to solve current problems and identify areas for enhancements or changes to prepare for the future state. Having the insight into the future state of the organization will allow the AMS team to implement the most appropriate long-term solution and reduce the potential need for future tickets related to the implemented change.
Capacity-Driven Scheduling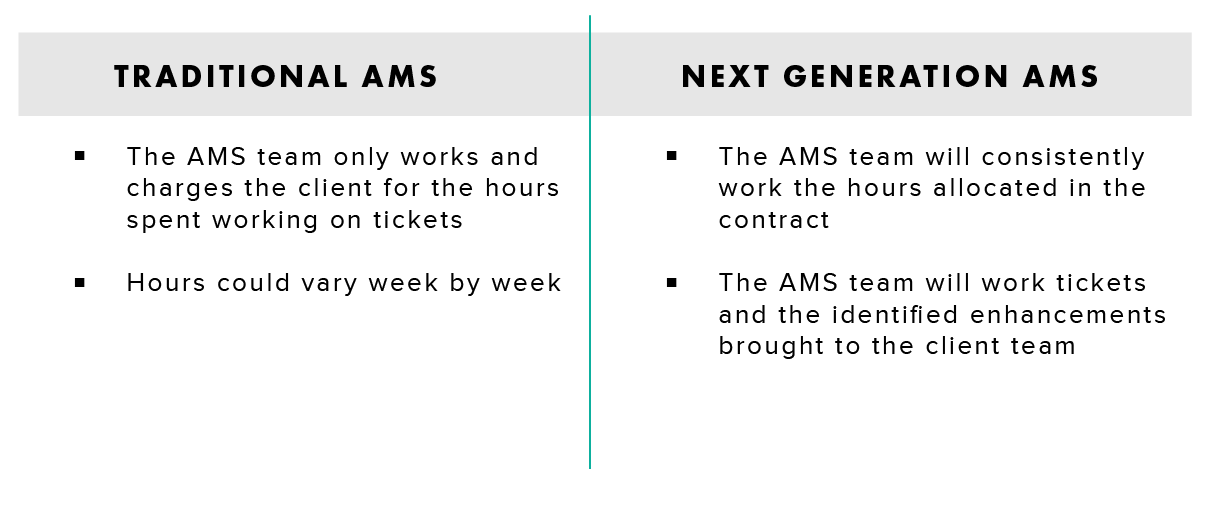 Takeaway: The AMS team will work based on capacity allocated in the contract vs. only working the tickets identified in backlog. To get the most value out of managed services, the AMS team will supplement their ticket backlog with small enhancements that can be worked on while a ticket is on hold or pending feedback from the client team.
Approaching Knowledge Transfer and Training in Next Generation Managed Services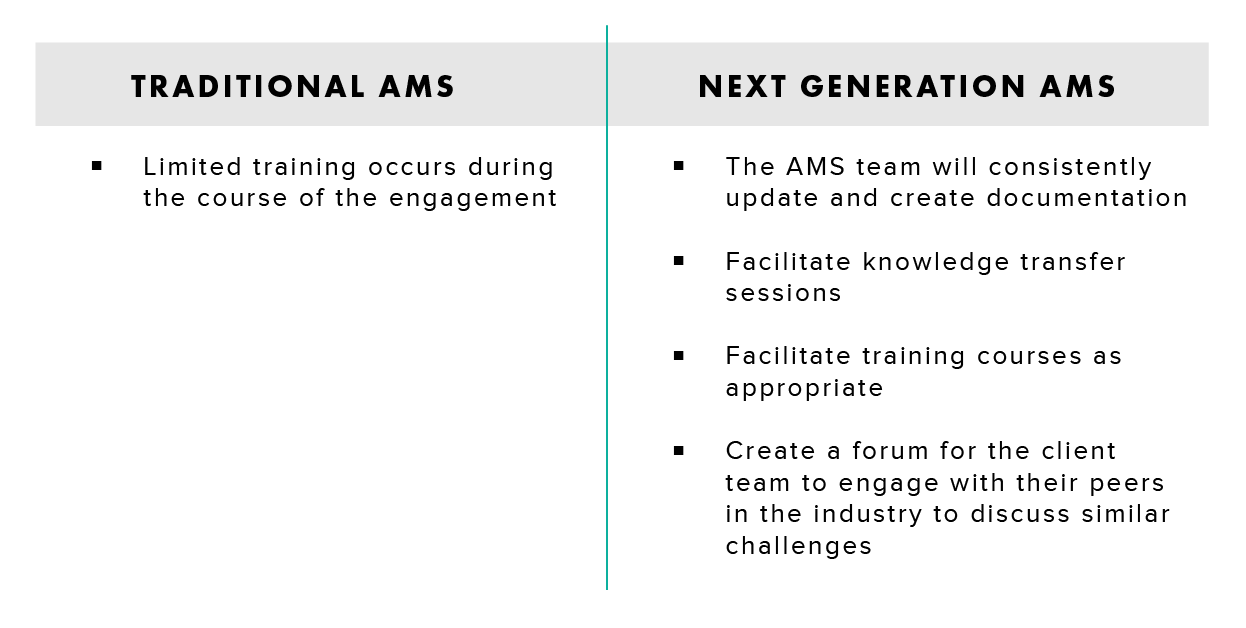 Takeaway: In the next generation of AMS, the team will proactively work to educate the client team to ensure understanding of system functionality.
The competitive environment continues to evolve and technological innovation only further complexifies the path to success in today's landscape. Partnering with an AMS provider is no longer a transactional relationship, it must be one based in collaboration, coordination, and education. Next generation managed services providers will not only help your business realize value in the traditional AMS sense (cost savings, efficiencies, etc.) but also create a scalable foundation for true digital transformation.
Subscribe to Clarkston's Insights