It should not come as a surprise that patients and consumers have grown to expect a seamless digital experience across any and all of their touchpoints and interactions with a brand. To fulfill stakeholder needs, organizations must take a series of specific steps in their journey to become a digital-first organization.
On the surface, the challenges are similar for digital natives as they are for digital nomads.  However, the execution requirements are highly dependent upon an organization's digital maturity.  For example, the journey for a mature organization's in a highly competitive space (e.g., retail) is very different than the challenges faced by a growing organization within a tightly controlled space (e.g,. a biotech looking to commercialize an orphan drug).   Nonetheless, three important considerations should be accounted for as organizations pursue their ambition to become a digital-first company.
Does your organization need a digital core or a digital shell? The answer to this fundament question sets sail to very different transformative digital journeys. 
3 Steps to a Digital-First Organization
Step 1: Understand Your Digital Competencies and Customer Pain Points
To advance an organization's digital ambitions, digital leaders must first have a deep understanding of their operating model and the role it plays in their ability to transition to a digital-first organization.  In other words, digital leaders need to develop a deep understanding of their key digital competencies and how those will play into their digital strategy.
For example, when working with a leading life sciences company in the contract manufacturing (CMO) space, Clarkston leveraged a proprietary digital scorecard to help our client articulate the core digital competencies the leadership team wanted to pursue. From there, we mapped those capabilities against the digital path to purchase for the company's customers (see simplified example in Figure 1).  After that, we recommend organizations benchmark those capabilities against both leading industry competitors but also out of industry players (e.g., Amazon) for an expanded view into the 'art of the possible'. The final output (see Figure 2) creates a comprehensive view (>90 sub-categories) of the digital competencies that are important for customers, how those digital competencies perform within the incumbent organization compared to the rest of the industry.
Figure 1: Example of online path to purchase – leading digital organizations should understand their company's capabilities along each step of the digital journey.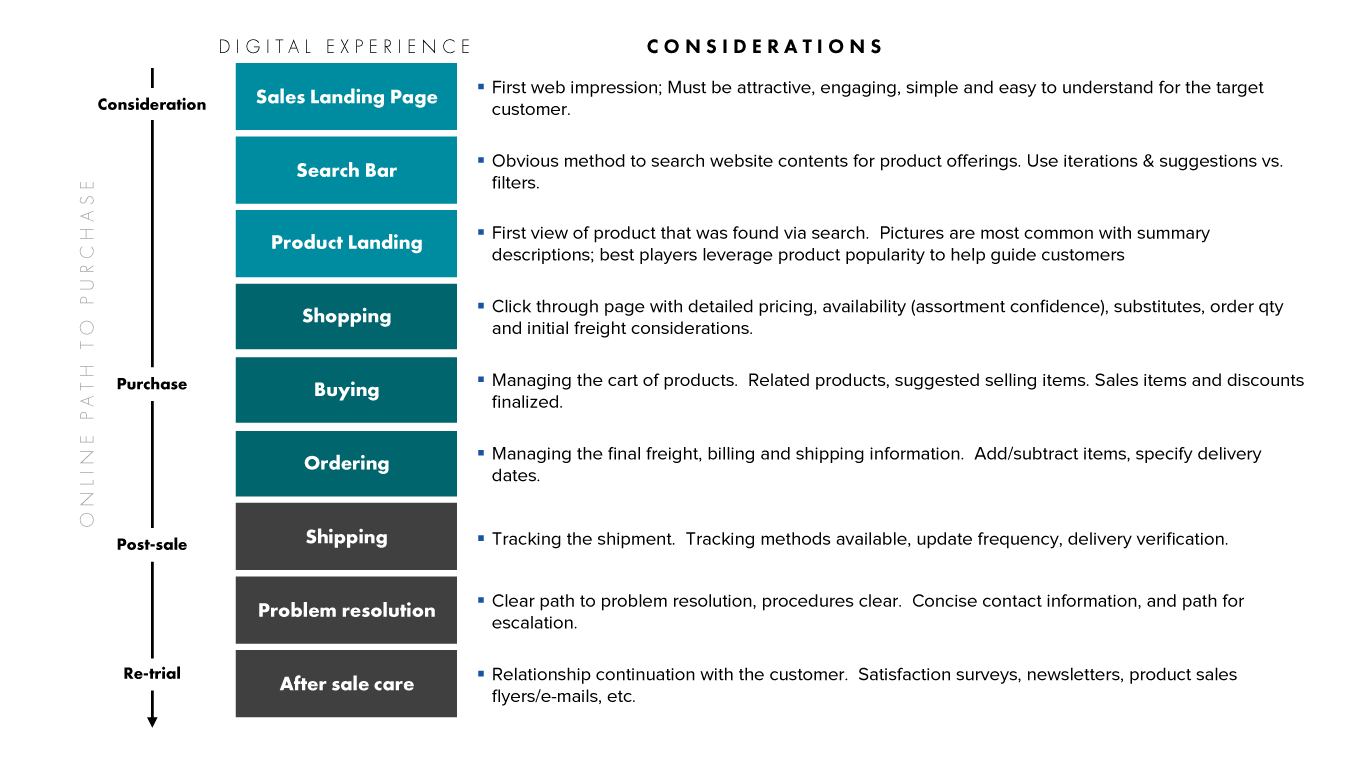 Figure 2: A mapping of digital capabilities (9 categories with +90 sub-categories to support each) should demonstrate how the incumbent organization compares against key competitors & other best-in-class players (even when outside of the incumbent's own industry).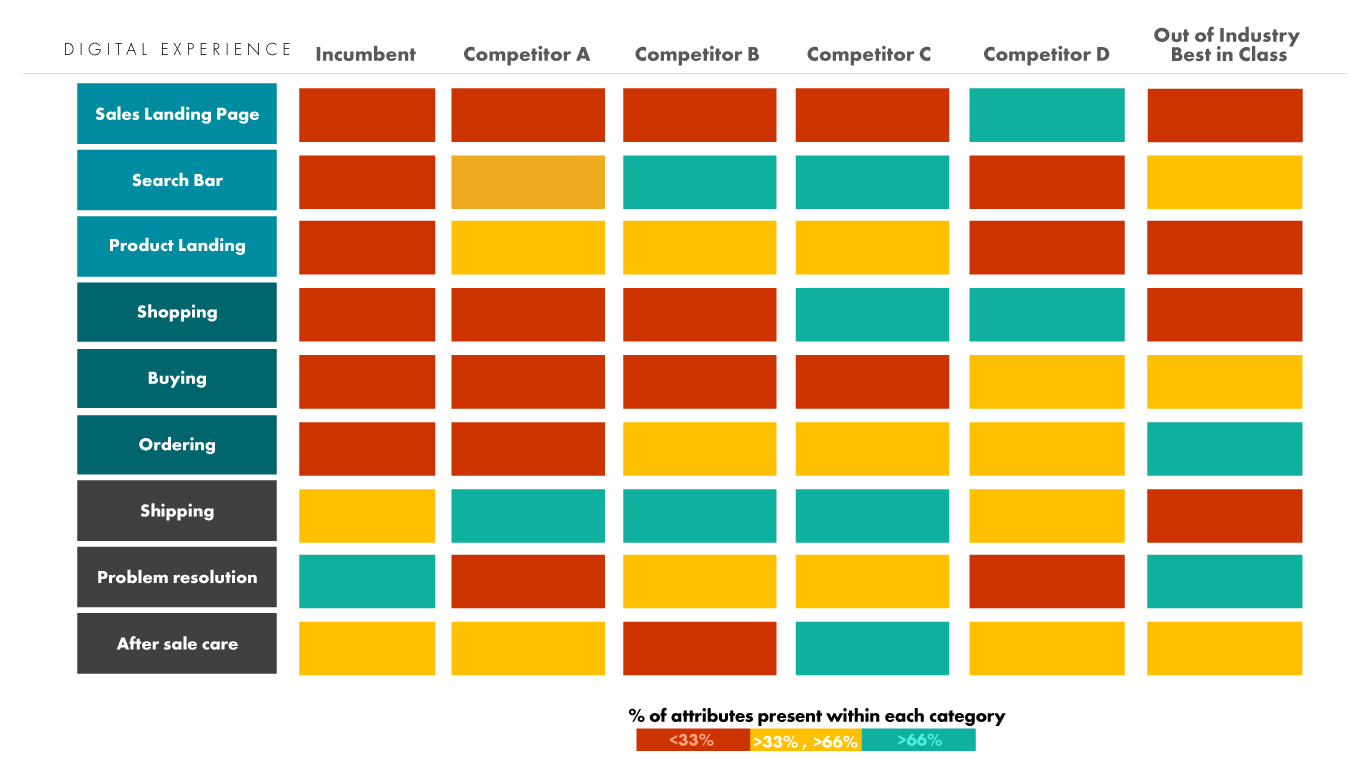 A critically important step in any organization's digital journey is to understand its operating model and how it supports the digital ambition. For example, are customers/consumers/patients increasingly moving towards online?  Is the industry developing increasingly more sophisticate digital capabilties?  Asking questions about industry dynamics and disruptive forces allows organizational leaders to understand how much their core operating model needs to evolve towards a digital core or a digital shell.  Leaders trying to become a digital-first organization need to first holistically understand where they stand before designing an action plan for where they want to go.
The second often overlooked element is to deeply understand customers in a much more intimate way, augmenting digital analytics (i.e., online digital behaviors) with ethnographic-type research. Seeing how customers interact with your organization's digital platforms (e.g., how customers make purchases) can lead to major improvements that would otherwise go unnoticed.
For example, through field research conducted across major markets in North America, Clarkston helped a multi-billion B2B client uncover a simple, but powerful, insight: some customers were using very old monitors inside their retail stores and offices (often with low and/or poor resolution).  The result: customers could not always see the entire digital catalog and ordering pages, leading to frustration and missed sales during the ordering process.  Without ethnographic research, this clear opportunity to design the user experience differently and take advantage of hundreds of thousands of potential lost transactions may have gone uncovered.
Step 2: Define the Ownership and Governance Structure of Your Digital Platforms
A key component of designing an organization's digital foundation starts with developing a holistic vision and alignment towards the purpose of the digital transformation.  From there, organizations need to truly understand ownership of the digital ecosystem (software, hardware, data, and vendors) and how these elements could be accelerating and/or hindering the company's digital evolution. Many leaders early in the journey to become digital-first organization begin with a decentralized ownership structure (i.e., "everybody owns digital"), which leads to inevitable challenges. Without clear ownership and governance, organizations can quickly develop confusion or conflicting strategies which stall the organization's digital evolution ambitions.
Often times IT can seem like a good owner of the digital ecosystem as it relates to technology. However, siloed IT-ownership can lead to a purely technological-driven strategy that fails to account for end-user experience or other business imperatives.  The opposite is also true – a purely business / commercially  led digital strategy can fall short in considering all aspects required to acquire, run, and maintain the necessary digital assets (tools, software, partnerships, vendors, organizational resources with net-new digital capabilities, talent upskilling, supply chain needs, etc.). Organizations must create a well thought through and purposefully designed strategy, the right processes, and a reporting structure built in to drive and encourage cross-functional collaboration. Without them the digital customer experience can become a patchwork of features and functionalities that are all technologically sufficient but fall short of a cohesive customer experience.
Organizations often become a patchwork of features and functionalities that are technologically sufficient, but fall short on providing a cohesive customer experience.
Step 3: Align the Organization with a Holistic Roadmap
Once the core competencies & capabilities required are identified and articulated, customer needs are well understood, and the right team & structure is set in place, digital leaders should ensure a holistic digital roadmap is developed that incorporates all the pieces of work required to achieve the digital vision.
Several pitfalls are common in this area and should be taken into consideration by digital leaders, including:
Making the digital roadmap too narrowly focused. Oftentimes roadmaps include only backbone elements of the transformation (e.g., ERP) but fail to include the peripheral critical tools (e.g., middleware, CRM, supply chain tools, quality & regulatory elements, etc.),  core foundational elements (e.g., data strategy and governance, change management) and/or partnerships required not only for today, but for the needs of the business 12+ months out. If the intention is to develop a holistic digital strategy, all elements must be incorporated.
Rigid plans. Plans are often developed and assumed to be static or definitive. The opposite is true – digital organizations need to create "freedom within a framework" with specific guideposts that require tremendous amount of flexibility on how the organization will get to the destination.
No mechanisms to inject & adapt to voice of the customer.  Digital plans often lack a well-planned and thorough injection of voice of the customer feedback.  For digital to succeed, leaders should have built in ethnographic work, behavioral digital analytics, customer advisory boards, and any other avenues required to gather customer feedback and redesign plans if/as needed (see "Rigid plans" above).  Organizations can often get caught in developing features & functionalities they think are critical, only to find out that customers were never (or rarely) involved in the decision-making process.
Constraining the financial business case.  Become a digital-first organization is not just lip service – it requires transformative thinking, resources, and commitments from the entire organization.  We often see most financial business cases treating digital elements as one-offs instead of incorporating a broader, organizational-wide assessment of all required investments.  To succeed, digital leaders need to incorporate broader plans into their digital financial business cases, or else risk falling short of their full ambition.  Strategy is about tradeoffs, and digital is no different.
Other Critical Considerations for a Digital-First Organization
As the famous adage goes "no battle plan survives the first enemy fire" – digital transformations are no different.  Market forces will always test the adaptability and resiliency of organizations. However, our experience suggests that leading organizations in the digital space are deliberate and purposeful about their pursuits and in that process, tilt the odds in their favor starting by having a thoughtful plan on the aforementioned three areas.
Subscribe to Clarkston's Insights
Contributions by Madeline Smith