SAP Ariba is a cloud-based spend management suite that helps businesses of all sizes streamline and automate their procurement processes, offering a wide range of features, including sourcing, contracting, purchasing, invoicing, and supplier management. More importantly, it serves as a supplier collaboration tool, allowing buyers and suppliers to connect digitally, removing manual steps, and enhancing the procurement experience. Below, we explore some key considerations for SAP Ariba.
Implementing SAP Ariba can be a complex undertaking, but it can also deliver significant benefits for businesses, including:
Reduced costs: SAP Ariba can help businesses save money by automating their procurement and invoicing processes, eliminating manual tasks, and improving visibility into their spend. 
Increased efficiency: SAP Ariba can help businesses streamline their procurement processes, reducing the time it takes to source, contract, and order goods and services. 
Improved compliance: SAP Ariba can help businesses comply with their procurement policies and procedures, reducing the risk of errors and fraud. 
Enhanced supplier relationships: SAP Ariba can help businesses improve their relationships with suppliers by providing a collaborative platform for managing transactions and sharing information.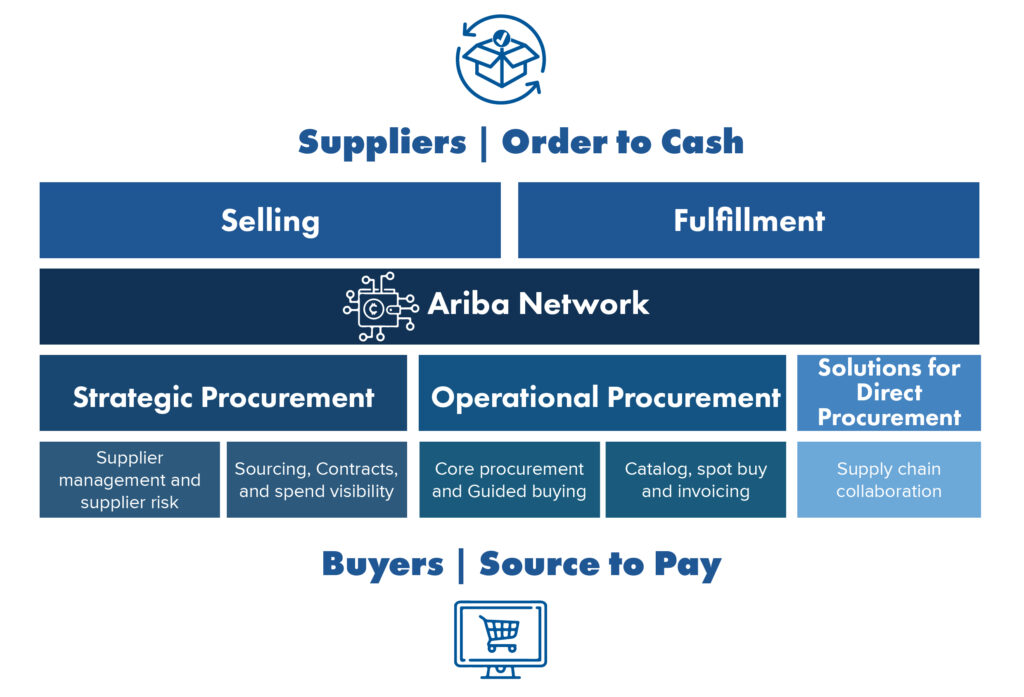 Key Considerations for Implementing SAP Ariba 
It's important to understand the full functionality of SAP Ariba and the interaction that you as a buyer will have with the tool and also with your suppliers. From strategic to operational procurement, and specific direct procurement collaboration, SAP Ariba is a dynamic tool. However, it can also be complex. Below, we have listed some key factors for consideration before implementing. 
Cost: SAP Ariba is a subscription-based service, and the cost can vary depending on the features and functionality required. It's a complex and powerful platform, so it can be expensive to implement and maintain. Organizations need to carefully consider their budget and ROI expectations before making a decision. 
Complexity: SAP Ariba has a wide range of features and functionality, which can be daunting for organizations with limited experience in spend management. It's important to have a clear understanding of the organization's needs and goals before implementing SAP Ariba. 
Supplier network:  SAP Ariba is only as strong as the suppliers who opt into the network. Before implementing, it's important to understand how many of your top suppliers belong or are willing to subscribe to the network for ultimate collaboration. If you have suppliers who are outside the network, this will create added complexity. 
Change management: Implementing SAP Ariba will require changes to existing procurement processes and procedures. It might also require a change to the procurement organization. As such, you need to develop a comprehensive change management plan to ensure a smooth transition. 
Integration: In order to take full advantage of it's true functionality, SAP Ariba needs to be integrated with other business systems, such as ERP and/or CRM systems. Businesses should carefully plan and execute the integration process to ensure that all systems work together seamlessly. 
Data:  SAP Ariba offers strong analytics, for deeper supplier analysis and spend visibility.  However, the old adage of garbage in, garbage out could never be more true.  Investing in data cleansing as part of your SAP Ariba implementation will pay huge dividends. 
Training: Businesses need to train their employees and suppliers on how to use SAP Ariba. SAP Ariba offers a variety of training options, but businesses should also consider developing their own training materials to align with their specific needs.  
Here are some additional tips for businesses considering implementing SAP Ariba: 
Start by developing a clear business case for the implementation. This will help you to justify the investment and get buy-in from senior leadership. 
Conduct a thorough assessment of your existing sourcing and procurement processes, data, and systems. This will help you to identify the areas where SAP Ariba can deliver the most value.  
Ensure the scope for your implementation is defined, including differentiation on direct and/or indirect procurement. SAP Ariba brings a full suite of supply chain collaboration for direct spend. 
Create a roadmap for implementation, prioritizing those areas that are most needed by your business and perhaps starting with the Strategic Sourcing suite for sourcing proposals and events before moving into core procurement. 
Work with an experienced SAP Ariba implementation partner. This will help you to avoid common pitfalls and ensure a successful implementation. 
Develop a comprehensive change management plan, with considerations for any necessary organizational change. This will help your employees to adapt to the new system and processes and minimize disruption to your business. 
Provide adequate training to your employees and your suppliers. This will help them to use SAP Ariba effectively and efficiently. 
Maximizing the Benefits of SAP Ariba  
SAP Ariba can be a valuable asset for businesses of all sizes and help them reach their procurement goals. However, it's critical to carefully consider the business considerations involved before deciding to implement it. By following the tips above, businesses can increase their chances of a successful implementation and maximize the benefits of SAP Ariba. 
To learn more about SAP Ariba and how it can bring value to your procurement processes, connect with one of our SAP experts today. 
Subscribe to Clarkston's Insights