Sustainability and product transparency continue to be leading considerations for how consumers shop. With the rise of these consumer trends, it's possible many have heard of – or at least seen in passing – the term "circular economy." However, a 2021 survey found that only 31% of people have any level of understanding related to the term. 
What is the Circular Economy?  
Circular thinking, or a circular economy, refers to a focus on processes that are restorative or regenerative by design, enabling resources to maintain the highest long-term value and eliminate waste. These systems recapture and repurpose what would traditionally be considered waste as an input for new materials and products. Likewise, they aim to repurpose products at the end of their lifecycle as inputs for new products being created. 
Circular Economy in the Food and Beverage Industry  
The circular economy is a force shaping the future of several industries, and the food and beverage industry is not immune to this change either. In fact, Gartner projects the circular economy can fully replace ways of working today by 2029. 
Nearly 75% of food and beverage distributors have noted that they are responding or intend to respond to recent climate pressures by businesses and consumers by adopting a circular economy strategy. The same report found that the most common practices today for this approach are product recycling and reverse logistics (73%), low/no emission internal logistics (65%) and low/no emission internal supply chain (61%).   
A life cycle assessment, known as "cradle-to-grave" analysis, can be restructured as cradle-to-cradle – meaning that the process should be viewed from the beginning with raw materials extraction to an "end-of-life," where the product can become a new raw material for a different process.  
For the food industry, food waste can be repurposed and recycled at several different steps in the cycle, from manufacturing to distribution to the consumer use phase. For instance,  Specialty Food recently highlighted a collaboration between distiller In The Welsh Wind, Bluestone Brewing Company, and Orkney Craft Vinegar that saw 3,000 liters of beer bound for landfill transformed into vinegar. Additionally, Burger King plans to test reusable packaging in partnership with TerraCycle's Loop initiative; the company will trial reusable containers for sandwiches and drinks at select restaurants in New York, Portland, and Tokyo. 
While the ultimate goal is for the system to be closed loop, it's not entirely there yet. It's difficult to find a company that has implemented circular thinking across their entire value chain. Further, most initiatives are targeted toward specific points in the cycle and encourage a circular system within that facet; for instance, single-use package reduction has promoted plastic collection and recycling, but it doesn't fully prevent the inclusion of new plastics into the system.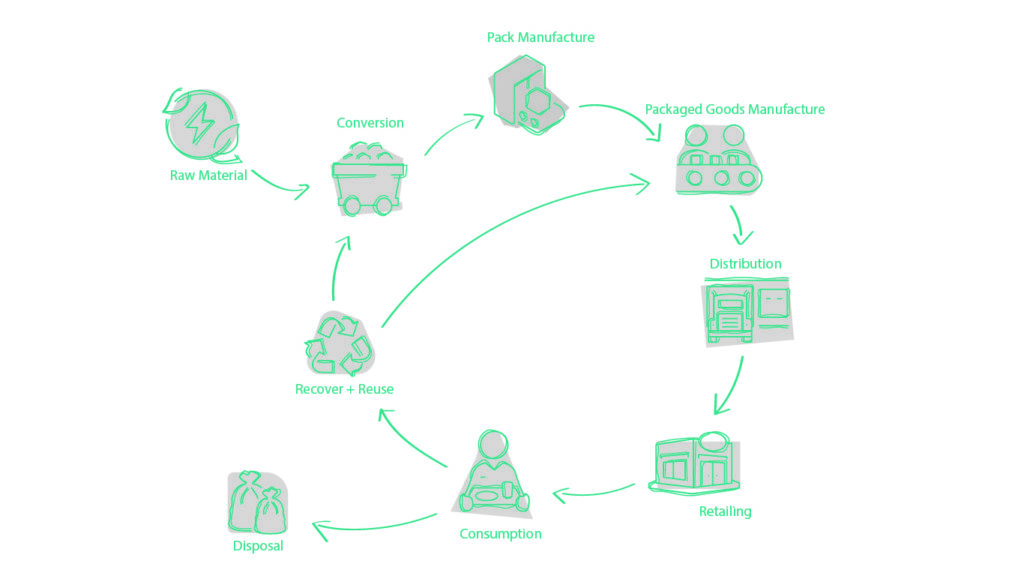 Producers for certain categories experience specific challenges to implementing a circular economy. For example, frozen food producers must navigate the resource-intensive process of managing perishable products, adhering to safety regulations, managing recalls, and preventing contamination. These challenges, coupled with broader hurdles such as managing the global agricultural supply chain and changing customer tastes, create a massive challenge and big opportunities for those that innovate their way to become more circle.  
However, opportunities arising from the circular economy are being realized today. Food and beverage manufacturers are digitizing their business to enable end-to-end supply chain visibility. Additionally, migrating data and operations to the cloud helps these companies take advantage of technologies including automation, artificial intelligence (AI), and data analytics in support of waste reduction. ERP data can be particularly useful for circular economy strategies, as it helps reduce costs, extend visibility, and optimize manufacturing processes to minimize waste.  
Best Practices  
Implementing circular thinking is challenging; it's difficult to know where and how to start. Conducting a life cycle analysis is a crucial step in identifying potential opportunities for improvement in waste reduction and resource reuse. In addition, there are a few key places that businesses in the food and beverage industries can look to start and advance the conversation: 
1. Sustainable Products and Processes  
A product "teardown" for each food and beverage item can help identify various potential sources of waste. What are the disposal practices? Where is the food stored and sold? Are items lost or contaminated often while transporting? Do customers often complain about safety concerns? These are all product-focused questions and concerns that can be key indicators that the product has room to become more sustainable.  
2. Reduce and Repurpose Waste  
The second consideration involves examining the consumer and post-consumer use phase. Companies can use creativity and innovation for sustainable end-of-life strategies to lower food waste and overall promote an equitable food system that minimizes food inequalities and insecurities that are prevalent across the globe. How can we incentivize customers to participate in the circular economy? How can we leverage our scale to amplify circular thinking in our sector?  
3. Re-Optimize Supply Chains and Distribution  
Companies can find potential issues when diving further into suppliers and distribution; it's essential to know the practices of partners, as they are critical to the reputation of the business. Companies should strive to understand completely the sources of their raw materials. How can I incentivize my suppliers to operate more sustainably in line with our corporate ambitions? How can we leverage our scale to encourage our partners to invest in technologies and practices promoting sustainability?  
4. Invest in data visibility technologies 
Investing in data capabilities can create that end-to-end visibility and drive better decision making. Technology is a crucial tool when assessing circularity metrics across the life cycle. For challenging to measure components of the value chain, companies are leveraging new models like digital twins to better understand what was previously ambiguous and drive better decisions. Where is the company measuring today? Where have we not been able to measure in the past? How can companies choose the best points to tackle? How can data visibility advance the company's circularity goals? 
Transitioning from the traditional linear process into a circular, closed loop system is not easy, but there are best practices and tips that can help you along the way. Small steps at different points in the value chain can make a huge difference in your company's circularity journey.   
Subscribe to Clarkston's Insights
Contributions by Alexandra Hatsios