If you perform a search on women in supply chain, you'll see a mix of CEOs, podcast hosts, and leading innovators. You'll also find the names of Lillie Elizabeth McGee Drennan and Edwina Justus –two female pioneers in supply chain. Women in supply chain today continue to face many of the same challenges faced by Lillie and Edwina, however as a result of the current supply chain talent shortage, there is a significant opportunity for encouraging women to enter this critical field.  
Two Women in Supply Chain
Just as seen by Lillie and Edwina, their willingness to persevere through the challenges they faced, women today are just as capable of meeting the needs of an even more complex and demanding world. 
Lillie and her husband started a trucking company in 1928. After getting divorced in 1929, she became the sole owner and quickly discovered the challenges of running a trucking company without a male counterpart, and she struggled to obtain her operator's license from the railroad commission, who regulated motor-freight at the time. It took her willingness to challenge the commission to find a male driver with a cleaner driving record than hers for them to award her commercial truck license. She went on to become the first female truck driver and operated over 24 years accident-free. Lillie is remembered as a pioneer for women in an area of supply chain primarily made up by men. 
Edwina Justus is another example of a woman within logistics who overcame similar barriers along with the added challenge of being a Black woman. In 1973, Edwina began working for Union Pacific Railroad, beginning as an office clerk in Omaha, Nebraska. Through the next few years, she overcame significant prejudice and was promoted to the position of traction motor clerk. having no knowledge of what the position entailed. Within three years, Edwina was promoted to the position of locomotive engineer, becoming the company's first African American female engineer. Edwina left Union Pacific in 1990 and is remembered for making history. She is quoted of saying "I changed every department that I went into."   
Closing the Gender-Gap in Leadership
These two women, along with many others, serve as examples of what can be accomplished by women who are willing to step into roles traditionally held by men. A 2021 survey published by Gartner, in partnership with AWESOME (Achieving Women's Excellence in Supply Chain Operations, Management, and Education), showed that 41% of the supply chain workforce is made up of women, up from 39% in 2020. While this overall increase is a positive, the percentage of women holding executive-level positions is down from 17% in 2020 to 15%, an area for continued monitoring.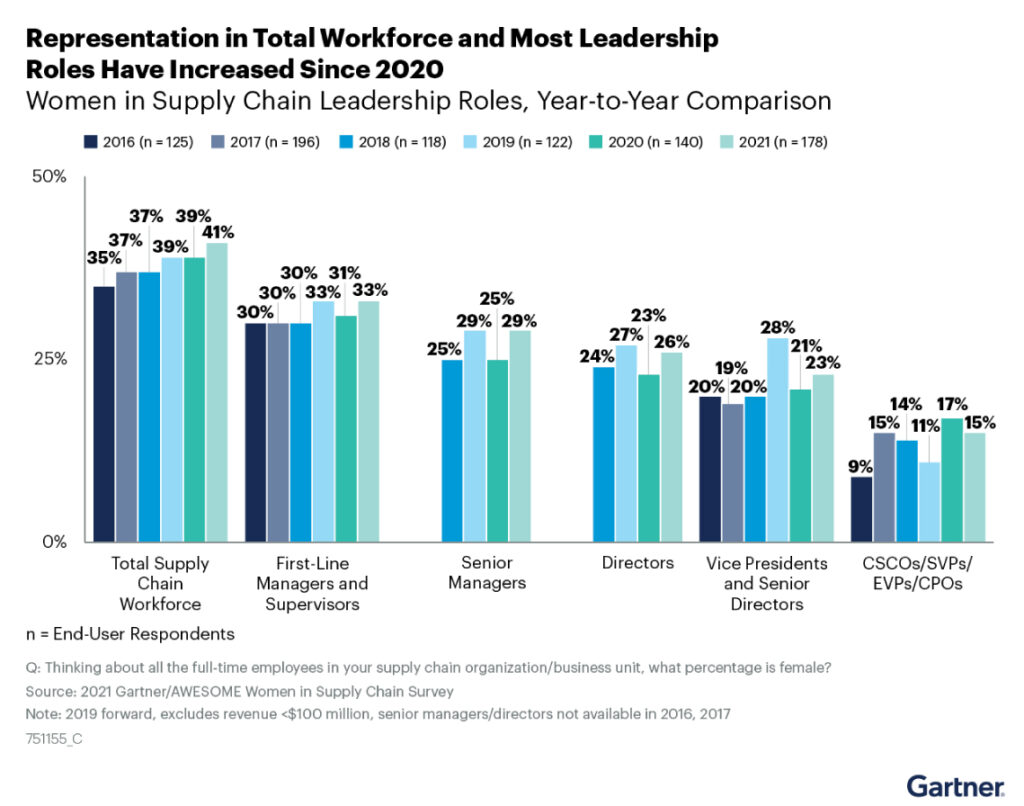 During the COVID-19 work force shakeup, women continued to shine in supply chain roles, sponsoring the use of technology while helping their organizations embrace changing supply chain demands; driving sustainability efforts forward; advocating for their teams; and seeking out creative ways to solve problems while keeping their employees safe. With all the work women have and continue to contribute to the supply chain, along with an increase of the number of women entering the field. being able to retain them as they move into their midcareer can be challenging.  
Going Forward: Encouraging Growth for Women in Supply Chain
Organizations focused on closing the gender gap and retaining a pipeline of women are encouraged to increase women's involvement in leadership development programs. These programs can be adapted to the work-life balance concerns of the midcareer women to retain the talent. Additionally, as organizations face further shortages in supply chain talent, it's also important to find ways to support the pipeline of women to fill the senior levels of leadership.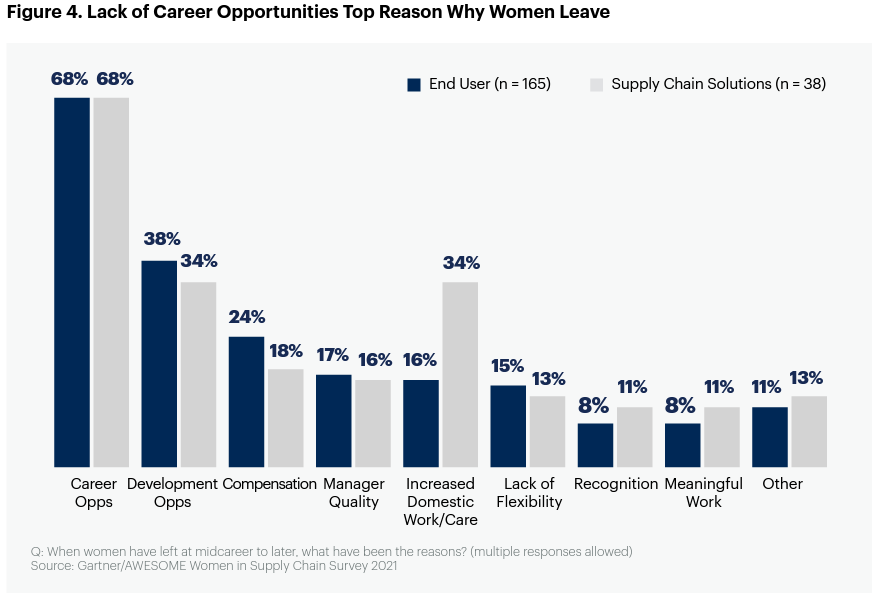 Subscribe to Clarkston's Insights