The disruption in wholesale distribution from digital advancements isn't new and the decision to move into multi- and omni-channel capabilities is no longer optional. With increasing margin pressures and the overhead to support eCommerce sales significantly lower than most other channels, the demand to increase eCommerce sales and capabilities has grown. The requirement to be faster to market with increased capabilities to meet customer expectations is greater than before.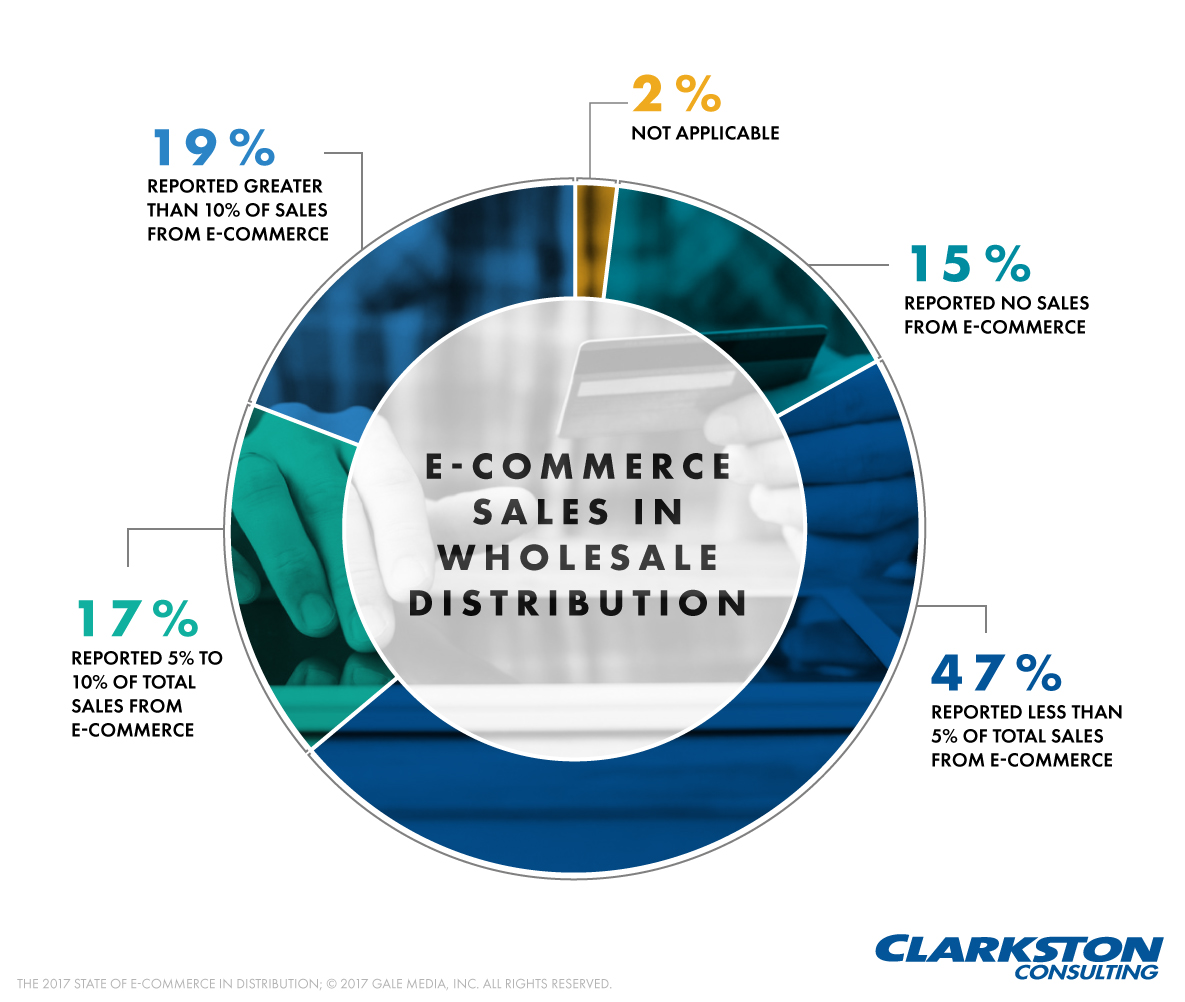 According to this year's "State of eCommerce in Distribution" survey, nearly half (47 percent) of distributor respondents reported less than 5 percent of their total sales in 2016 were from eCommerce, while 17 percent reported sales of 5-10 percent from eCommerce and 15 percent had no sales from eCommerce.
In a highly competitive market, customer retention is a non-linear response to customer satisfaction. There is a clear relationship between high customer satisfaction and high customer retention rates.
Distributors across the globe are experimenting with ways to increase eCommerce sales volume but in our experience, there are two elements with the highest potential to positively impact your eCommerce objectives:
A robust platform with the necessary back-end system capabilities to increase customer acquisition and market share
Contextual and targeted marketing functionality to improve customer retention and increase the customer's share of wallet
SAP Hybris affords your business advanced eCommerce capabilities – leading to a positive impact to your bottom line through increased market share and share of wallet, and an impactful customer experience. Through a proper implementation, your organization can leverage SAP Hybris to drive improvements and efficiencies unlocking substantial business value.
SAP Hybris eCommerce Opens the Door to Increased Market Share
Consumers' needs for digital engagement began with the retailer and continue to cascade up the value chain to the wholesale distributor. Just as the customer has specific digital capabilities they require, so too does the retailer have of the wholesale distributor. They want simplified order creation and tracking; the ability to view order history and place quick re-orders; and self-sufficiency in maintaining account updates.
SAP Hybris Commerce provides connected digital touchpoints, front-end and back-end operations, and enterprise systems. These integration solutions enable wholesalers to provide their customers with critical full-service digital capabilities. Hybris Commerce connectivity with SAP ERP or S/4HANA provides back office capabilities at the storefront to support real-time complex pricing routines, stock availability and product configuration. It can also provide access to invoicing, order status, history, and other back-end functions. Connectivity with SAP CRM supports self-service tools. The results can include growth in market, while significantly improving customer retention, site stickiness, and customer satisfaction.
Wholesalers are able to meet the demands of their customers by providing effective and efficient interactions in a consistent experience across the digital platforms, including mobile and social. By providing these digital capabilities, customer interaction via digital engagement can reduce overhead and grow the customer experience.
Increasing Share of Wallet
To take the connected digital capabilities to marketing functionality, SAP Hybris Marketing provides customer context which is realized with improved customer insight and personalization. This insight can be obtained via multiple touchpoints such as tradeshows and events, sales and services, and industry data. This data is compiled and analyzed within the system.
Understanding customer's and their contact's prior behavior and future behavior provides in-the-moment experiences. Wholesalers often struggle with defining customer segmentation and providing the right marketing recommendations however the data and analytics provide a clear path to target the right customer with the right messaging. Personalizing that message for the contact is critical in maintaining and growing that contact relationship.
Improving Customer Experience with Impactful SAP Hybris eCommerce Capabilities
What happens when you bring together connected technologies and customer insight…a powerful digital experience. Although these platforms can be delivered separately, there are added benefits with coupling the capabilities of SAP Hybris Commerce and SAP Hybris Marketing solutions.  Wholesalers can provide real-time customer and contact personalization based upon assigned marketing campaigns. Wholesalers will have the ability to recommend products to the customer to support upsales and cross-sales based upon marketing predictive analytics. Wholesalers can also target marketing efforts based upon the customer's browsing behavior or abandoned shopping carts.
The evolution of digital capabilities, connected solutions, and customer insight allows wholesalers to provide an improved customer experience with targeted and simplified marketing capabilities. The customer expectations for digital engagement are met with a "delighter" solution.  Customers who have an excellent experience, find ease in connecting with the wholesaler, and can become self-sufficient thus simplifying the relationship, will maintain and grow that relationship with the wholesaler. Delighted customers will continue to increase revenue opportunities for a channel with significantly reduced overhead.
The digital transformation is underway and there are multiple solutions to enable the wholesale distributor to catch up to the ongoing movement.  Now is the time to get connected via multiple channels and improve customer retention with increased satisfaction and delighters. This will result in decreased overhead from a lower cost customer touchpoint and independent capabilities and increased revenue from the customer stickiness the digital functionality can provide. The ultimate result is the growth in e-channel sales, improved market share, and increase in share of wallet.
How is your wholesale distribution business navigating the new normal? We've helped companies define and realize their digital strategy through SAP Hybris and other leading platforms. If you'd like to learn more about our experience, feel free to contact me using the contact information above or subscribe to our insights below.
Subscribe to Clarkston's Insights