SAP BusinessObjects Data Services is an ETL tool, integrated natively with the SAP suite of products. In an age of digital transformation, these types of tools have become necessary for organizations to consolidate data and increase both their information management and analytical capability. It allows users to Extract data from one data source, apply rules in order to pass transformed data, and load that data into a target system, essentially bringing multiple disparate systems into one. This can be done once as a simple migration to a new system, or it can be a routine process of migrating new data to another system.
What are the Advantages of SAP BusinessObjects Data Services?
With many businesses running SAP as their Enterprise Resource Planning (ERP) system, this tool is a great choice as it integrates best with SAP. Whether a business has a thousand customers or one million, this enterprise level tool is great in scalability. With a quick learning curve using a drag and drop interface, analysts or data engineers can start using this tool without special coding skills required. Additionally, there is a lot of flexibility in data creation as the tool allows for various ways to load data to SAP, such as BAPIs, IDOCS, and Batch input. The tool also allows for easy scheduling and monitoring of jobs. It also reduces the need for repetitive tasks with the use of variables. Variables allow for users to do various things, such as decide which steps to perform in a task, which environment a job should run in, and easily change steps of a process without recreating the entire job. There are also in-built features that allow for data harmonization and data quality with the use of if/then or de-duplication logic.
What are Disadvantages of the Tool?
Just like with any ETL tool in the market, there are a few drawbacks to using Data Services. One disadvantage of the tool is that there is a high purchase cost. SAP itself is not a cheap tool, and while the company encourages users to work within the same ecosystem, the pricing translates to this tool as well. Unlike some SAP tools, Data Services is more focused for developer teams and not targeted for business users, resulting in the need for a specialized skill. The debugging functionality of Data Services is not as sophisticated as other tools, which can make development more difficult as compared to a coding platform that can run everything step by step when needed.
Ways in Which SAP BusinessObjects Data Services is Used:
The most common way that this tool is used is transferring data from one source to another.
For example, we've worked with a large, global company that has acquired multiple smaller brands and wants to implement a Central Finance system to integrate all the master data into one source. Their business units all use their own SAP systems and have different formatting rules for their data. Some acquired companies use different ERP tools than SAP, and others are small enough to maintain their master data in Excel files.  They want to consolidate and harmonize all this master data into one system.
The first step in this process is the Extraction of Data from source systems. The different SAP BusinessObjects data systems can be connected to Data Services, and Excel files can be imported into the tool.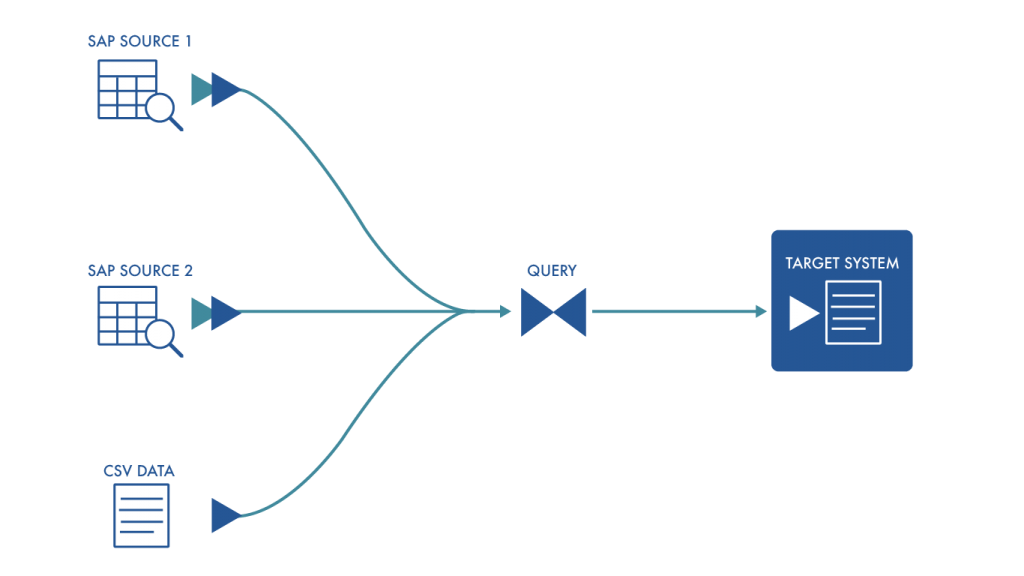 From there, the next step is Transformation of Data. In this step, there are multiple things that can be done. As the data is coming from different locations, there is often a variance in languages or units of measure. To harmonize this data, the different languages and units of measures can be converted so that they match across systems. De-duplication is another task that can be done, as to not bring in redundant master data. Validation is also included in this step to ensure that only the correct data is brought into the new system. Rules and value mappings are also applied in this step to transform the data so that all the separate systems are harmonized into the target system.
The final step is the Loading of Data into the target system. There are multiple ways that this can be done, depending on the data being passed. The data can simply be passed into a database in the target system, or it can be loaded into the system using different communication tools such as IDocs and BAPIs.
These steps are usually not done all at once, but rather often done in multiple iterations. When developing such a workflow, the process is executed on data in a development or testing environment to ensure that all the migration requirements are met without affecting the end-users. Once testing is complete and the transformations are verified, variables in the workflow can be changed in order to direct data to the production target system instead of the testing environment.
As more companies move to better data solutions, there is a growing need for a good data migration tool. Companies are interested in using more data than ever from different functional tools, systems, consumer communication channels, and more.  Having the ability to migrate data efficiently allows for an organization to have better analytical capabilities and data governance.
Subscribe to Clarkston's Insights
Contributions by Suvrat Jhamb