As companies look ahead into 2021 and beyond, one large known-unknown revolves around the nuances of conducting a fully remote budgeting process.
In our experience, three critical pillars need to be thought through to facilitate the budgeting process as functions work remotely with their finance counterparts. To succeed in a remote environment, the budget process must still focus on the foundational strategic elements of the annual operating plan. Said differently, a remote budgeting process needs to:
Improve your organization's financial foundation;
Support the company's strategic imperatives, and;
Enable capabilities build out
Remote Budgeting Process Imperative #1: Improve your organization's financial foundation
The budgeting process should always consider an organization's financial health drivers, whether driving topline growth, improving gross margin, EBITDA, cash flows, and/or focusing on capital utilization. Obtaining the necessary cross-functional inputs and aligning on all assumptions for these drivers is hard enough in a face-to-face environment. To improve the budgeting process remotely, leaders need to clearly define expectations and consciously create the necessary settings and conditions that facilitate collaboration.
Tactically speaking, for example, leaders should appoint individuals to facilitate live collaboration sessions to create and edit assumptions in conjunction with other functional experts. This level of virtual whiteboarding agility and speed is not always present on every team and organization, which is why leaders need to consciously create environments that are conducive to remote collaborative work. This goes beyond getting the right tools (Zoom, Teams, Miro, etc.) and focuses more on the process and skills required for facilitating these virtual exchanges. Having sat on hundreds of video conference calls for the past few months, we have witnessed firsthand an apparent shortfall for "digital moderator / facilitator" skills across many organizations.  Missing this link in your company's remote budgeting process could cause shortfalls in its intended purpose.
For example, Clarkston held virtual working sessions to "draw and re-draw" different scenarios for a CPG client during live virtual working sessions with different supply chain executives. By having an agile 'digital facilitator' team who could help draw and summarize the conversation on the fly, the remote workshops led to faster and better alignment that helped accelerate important decisions for the organization.
Remote Budgeting Process Imperative #2: Support your company's strategic imperatives
Over the past several months many organizations have focused on either a growth mindset (e.g., investing in supply chain to support demand outbursts) or a cost mindset (e.g., rebalancing SG&A spend or capital strategies). Either way, the remote budgeting process going into 2021 should align to the overall organizational strategy and all supporting pillars across the entire organization (see Clarkston's Enterprise Destination Mapping methodology).
It is not unusual for organizations to "plus-up" their budget plans from the prior year (e.g., adding 2% growth to topline, or offsetting costs by 2%). Doing this puts organizations at risk of disconnecting the remote budgeting process from market and competitive realities, especially given the economic fluctuations caused by COVID-19. In a remote environment, the plus-up trap can become more prevalent as people work in independent silos and lack clarity or a holistic understanding of the company's strategic imperatives. Now more than ever, remote budgeting processes need to be closely linked to the overall short (<12 months) and mid-term (12-24 months) corporate goals.
For one wholesaler distributor Clarkston devised a series of strategic options & ranges to illustrate 'the art of the possible' and how each decision aligned (or not) with the overall strategic intent. In one instance, the goal was to more closely own the customer experience. As such, the company decided to build a platform from the ground up vs. partner with a 3rd party. Each choice came with different budgetary constraints and options, but without a clear understanding of the strategic direction a remote budgeting process would have yielded misaligned tactics.
Remote Budgeting Process Imperative #3: Enable capabilities build out
An annual operating budget that is purely financial is destined to fall short of its full potential. Instead, organizations need to use their financial prowess as a competitive advantage to help fund and enable the build out of critical capabilities. For example, finance leaders need to work with their cross functional counter parts to develop sensitivity analyses and scenarios to understand different pockets of available investments within the organization. The reallocation of existing resources is as critical – and quite often under looked – as the allocation of net-new resources.
For one CPG client, that meant understanding the levers to drive efficiencies in their business (rationalizing inefficient trade spend, optimizing procurement costs, and streamlining organizational design via spans & layers) as a way of repurposing savings for future investments. Today, the team is on a path to centralizing procurement capabilities in one unified platform thanks to the budgeting process put in place beforehand and the reallocation of existing resources towards these procurement initiatives.
Moving Forward
Many challenges exist in the traditional budgeting process: connecting to the company's overall strategy, speed, resources required to execute, reliability, flexibility, complexity of budget line items, multiple versions of the truth, among many others. Today's remote working environments will further accentuate these issues for most organizations.
Given these challenges, leaders need to preemptively think about ways to purposefully create collaborative decision making in a remote environment. Following the suggested pillars is a foundational start to get your organization headed in the right direction.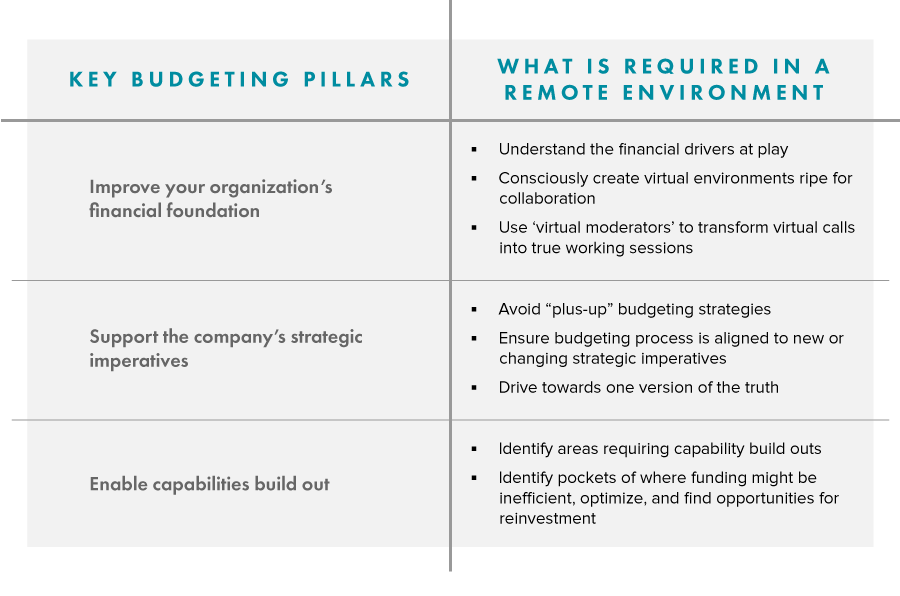 Subscribe to Clarkston's Insights
Contributions by Ashley Stufano.