Clarkston Consulting Wins an ASTD "BEST Award"
Awards Recognize Organizational Commitment To Employee Learning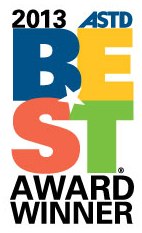 DURHAM, NORTH CAROLINA  |  October 3, 2013 – Clarkston Consulting is proud to announce they are a four time award winner in the American Society for Training & Development's BEST Awards program. Clarkston Consulting is among 28 organizations from five countries chosen to receive a 2013 BEST Award this year. Clarkston will be among the winners featured in a special section of the October 2013 issue of Training + Development (T+D), ASTD's monthly magazine.
The Clarkston talent team was in Washington, D.C. to receive the ASTD BEST Award during a ceremony held Tuesday night. As a winning organization, Clarkston shared their best practices for talent development and growing future leaders with other learning and development practitioners at the Learn from the BEST conference.
"Clarkston is proud to be recognized by ASTD for the fourth time for our training programs. Developing and deploying diverse learning opportunities for our professionals is a strategic priority for our firm and a key commitment to our stewards. To be recognized as part of this prestigious group is an honor," said Carol Gillespie, Clarkston's Managing Partner for Human Resources.
Tom Finegan, Clarkston's CEO and co-founder remarked, "This award is a testament to our firm's commitment to the career development of our professionals. Our innovative learning environment, leadership involvement in learning, coupled with creative delivery approaches and significant investments in training have all contributed to this success and measurable results for Clarkston and our global clients."
The ASTD BEST Awards are the training industry's most rigorous and coveted recognition. The BEST Awards recognize organizations that demonstrate enterprise-wide success through employee learning and development. "These 28 companies excel in creating innovative, vibrant learning cultures that clearly align with strategic business goals," says Tony Bingham, ASTD President and CEO. "They get it. The leadership of these organizations values the impact learning and development achieves, and knows that having a knowledgeable and skilled workforce drives success. "
ABOUT CLARKSTON CONSULTING
Clarkston Consulting is a different kind of management and technology consulting firm. We deliver a unique experience for market leaders within the Consumer Products and Life Sciences industries. Considering professionalism, expertise, and value as prerequisites, we take service a step further through our unyielding commitment to the success of people as individuals, both our clients and our employees. By combining integrity, adaptability, and a whatever-it-takes attitude, we have achieved an extremely high rate of referral and repeat business and a 10-year average client satisfaction rate of 96%. For more information, please visit www.clarkstonconsulting.com.
ABOUT ASTD
ASTD (American Society for Training & Development) is the world's largest professional association dedicated to the training and development field. In more than 100 countries, ASTD's members work in organizations of all sizes, in the private and public sectors, as independent consultants, and as suppliers. Members connect locally in 120 U.S. chapters and with 15 international partners. ASTD started in 1943 and in recent years has widened the profession's focus to align learning and performance to organizational results, and is a sought-after voice on critical public policy issues. For more information, visit www.astd.org.