Clarkston Consulting Recognized as 2013 Best Place to Work
Triangle Business Journal Announces Best Places to Work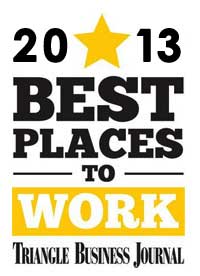 DURHAM, NORTH CAROLINA  |  October 14, 2013 – Clarkston Consulting, a global management and technology consulting firm, today announced that it has been named one of the Best Places to Work in the Raleigh/Durham/Chapel Hill, NC area.  Clarkston Consulting is among 35 organizations from the Research Triangle region to receive this award and to be recognized for providing a remarkable workplace that attracts and retains employees through a combination of company culture, engaging work environment and benefits.
The Best Places to Work Awards is a national awards program for which companies are nominated to participate because they recognize that creating a productive, engaging, and rewarding place to work is of high value.
"One of the most rewarding aspects of this particular recognition is that it is driven by employee surveys," says Bryan Hamilton, publisher of Triangle Business Journal, "and your colleagues have given your organization high marks in areas such as team effectiveness, trust with co-workers, manager effectiveness and work engagements."
Tom Finegan, Chairman and CEO of Clarkston Consulting, stated, "We have strived to build a high performing culture where outstanding contributions and innovative ideas are rewarded.  At Clarkston, our focus is on two things: our clients and our people.  As a result, we're able to provide brilliant client service and a rewarding and stimulating environment for our stewards."
Clarkston has achieved similar rewards in the past for its strong corporate culture and talent management best practices.  Paul Garrison, Clarkston's Managing Partner remarked, "Many companies create a culture and manage the workforce to fit.  Our Clarkston stewards take ownership and have an active role in creating our exciting culture. It is wonderful to receive recognition for what we have all created together."
ABOUT CLARKSTON CONSULTING
Clarkston Consulting is a different kind of management and technology consulting firm. We deliver a unique experience for market leaders within the Consumer Products and Life Sciences industries. Considering professionalism, expertise, and value as prerequisites, we take service a step further through our unyielding commitment to the success of people as individuals, both our clients and our employees. By combining integrity, adaptability, and a whatever-it-takes attitude, we have achieved an extremely high rate of referral and repeat business and a 10-year average client satisfaction rate of 96%. For more information, please visit www.clarkstonconsulting.com.
ABOUT TRIANGLE BUSINESS JOURNAL
The Business Journals is the premier media solutions platform for companies strategically targeting business decision makers.  We deliver a total business audience of over 10 million people via our 43 websites, 40 publications and 550 annual industry leading events.  Our media products provide comprehensive coverage of business news from a local, regional, and national perspective.  We have more people, publications and websites covering our nation's business than any other business media organization.  The Business Journals are a division of American City Business Journals.