Faith Kosobucki named in Triangle Business Journal's 2017 Women in Business Awards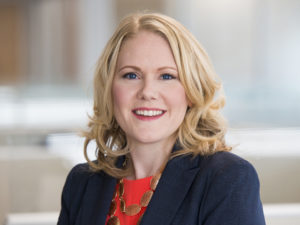 DURHAM, NC | March 9, 2017 – Clarkston Consulting is proud to announce that Faith Kosobucki has been named in the top Women in Business by the Triangle Business Journal. Faith was chosen from over 100 applicants who have all exhibited proven success in their businesses and communities.
Faith Kosobucki, Chief Financial Officer, is responsible for the financial and operational growth of the Clarkston-Potomac Group and its operating subsidiaries. Faith serves as a partner at Clarkston Consulting, one of the subsidiary businesses. Clarkston Consulting is based in Durham, NC and is a premier consulting company with global operations. Faith also serves as board member and chief financial officer of FoodLogiQ, a software-as-a-service technology company created to improve the world's food supply chain. She is also the chief financial officer for Bull City Talent Group and Enlight Research, LLC.
According to Clarkston Potomac Group's Chief Executive Officer, Tom Finegan, "Faith is thorough, dedicated, and committed to excellence – everything you could want in a CFO. She is a respected leader internally and externally and a mentor to a number of our emerging stewards.  She is also uniquely talented beyond her financial acumen in her ability to balance multiple complex business entities and provide strategic guidance for corporate growth."
"The 2017 class of Women in Business Awards winners represents a vast array of knowledge and influence that spans across the entire Triangle and beyond," wrote TBJ Publisher Jason Christie. "We are extremely excited to be able to honor these successful women."
Faith is active in the community as both a member of both the American Institute of Certified Public  Accountants (AICPA) and North Carolina Association of Certified Public Accountants, Inc. (NCACPA).
Click here to see the full list of winners.