Consumer Products Executives Choose Clarkston Consulting
Clarkston Consulting recognized as a top 10 consulting provider by Consumer Goods Technology readers, 10 years in a row.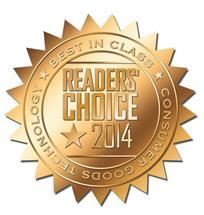 DURHAM, NC  |  January 30, 2014 – Consumer goods executives have named Clarkston Consulting a top-ranked consulting provider for the 10th year in a row, according to results from Consumer Goods Technology's (CGT) 2014 Readers' Choice Survey.
Each year, Consumer Goods Technology polls more than 150 senior-level executives from consumer products companies to identify the most valued software and service companies within the industry.  Clarkston was again named as a top 10 service provider for 2014, underscoring the value and business benefit it continually delivers to its consumer products clients.
Clarkston has ranked in the top 10 for consulting firms by CGT since 2005.  Through the years, Clarkston has received recognition for its focus on the CP industry, its unique ability to serve the small to medium sized market and its unwavering commitment to client service demonstrated through numerous #1 rankings in Customer Experience.
"It is an honor to celebrate 10 years of recognition from Consumer Products executives. Clarkston's passion is to help our clients realize measurable results, and we are thrilled that the industry sees the differentiated value and tangible business benefit we are able to provide," said Clarkston's Consumer Products Practice Leader, Steve Rosenstock.
For more information on the CGT 2014 Readers' Choice Survey, please visit http://consumergoods.edgl.com/2014-readers-choice/consulting
To find out more about Clarkston's Consumer Products services, please visit http://www.clarkstonconsulting.com/solving-industry-challenges/consumer-products
ABOUT CLARKSTON CONSULTING
Clarkston Consulting is a different kind of management and technology consulting firm. We deliver a unique experience for market leaders within the Consumer Products and Life Sciences industries. Considering professionalism, expertise, and value as prerequisites, we take service a step further through our unyielding commitment to the success of people as individuals, both our clients and our employees. By combining integrity, adaptability, and a whatever-it-takes attitude, we have achieved an extremely high rate of referral and repeat business and a 10-year average client satisfaction rate of 96%. For more information, please visit www.clarkstonconsulting.com.